Monica L. Jefferson named interim director of HOME
7/29/2021, 6 p.m.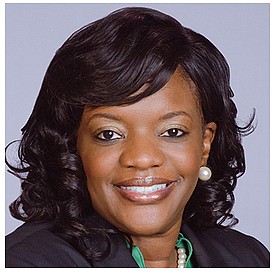 The Richmond-based fair housing watchdog Housing Opportunities Made Equal is undergoing a leadership change.
After nine years, Heather M. Crislip, president and chief executive officer, is leaving July 31 to take charge of The Richmond Forum.
HOME's board has named Monica L. Jefferson, HOME's vice president and chief operating officer, as the interim president while the organization conducts a search for its new leader.
Marianne McGhee, board chair, said HOME "is sorry to lose Heather, as her impact on this organization and our com- munity has been tremendous. But HOME has a very deep bench of talented and committed leaders. Heather will leave behind a strong dynamic organization that is ready to build on what she has accomplished."
During her tenure, Ms. Crislip worked with City Hall, legal aid, Firms in Service and the Greater Richmond Bar Foundation to create the state's first eviction diversion initiative. The program has aided hundreds of families to stay in their homes since launching nearly two years ago.
Ms. Crislip also is credited with creating a HOME partnership with Wells Fargo to expand home counseling services and improve the bank's compliance in lending for home mortgages with fair housing laws that ban discrimination.
On her watch, HOME also successfully sued various property owners for violations. In one notable case, owners of a Ches- terfield County complex ended a ban on renting to people with nonviolent criminal charges on their record.
Ms. Crislip also led HOME in instituting new counseling programs for people holding federal housing vouchers that provide rental subsidies and in expanding informational efforts to end housing discrimination.
"HOME is a special and vibrant organization that has taught me so much," Ms. Crislip stated in the release announcing her pending departure. "HOME will always be a big part of who I am and of the vision of an equitable Richmond that I pursue in the future."
Ms. Jefferson, who earned a master's degree in nonprofit studies from the University of Richmond, has 30 years of experience in affordable housing, administration, mortgage lending, community development, human resource planning and organizational development.
She worked for 13 years with Virginia Housing in grants administration, community outreach and nonprofit capacity building before joining HOME in 2018.