St. Christopher's standout Andre Greene Jr. among top national prospects
Fred Jeter | 10/14/2021, 6 p.m.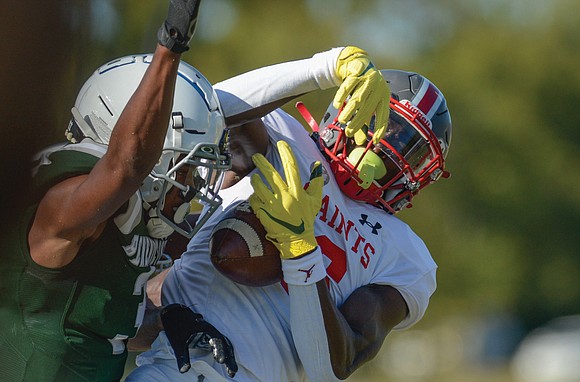 Andre Greene Jr. checks all the boxes.
Whatever someone is looking for in a receiver— size, speed, leaping, sure hands, smarts, work ethic, etc.—the senior at St. Christopher's School has it in bunches.
"Andre is a unique prospect—so explosive," said St. Christopher's Coach Lance Clelland. "He has a very high ceiling."
Rivals.com, ESPN and 247Sports all rank Greene, who turned 18 on Oct. 5, among the Top 10 receiving prospects nationally for the Class of 2022.
The 6-foot-3, 185-pound Greene of Richmond has attracted scholarship offers from a who's who of major colleges coast to coast.
At this juncture, the six finalists on his own checklist are the University of Georgia, Penn State, Louisiana State University, the University of Oregon, the University of North Carolina and Clemson University.
Greene's decision figures to be an early Christmas present for one fortunate school. The NCAA National Letter of Intent signing date is Dec. 15.
The son of Alexis Brown and Andre Greene Sr., Greene transferred to St. Christopher's as a ninth-grader after attending Lynnhaven Academy in South Richmond.
He made Coach Clelland's varsity as a freshman and emerged as a standout in 2019 as a sophomore, catching 31 balls for 600 yards and helping the Saints to a 10-2 record and to the finals in the Virginia Independent Schools playoffs.
This past spring, in an abbreviated three-game season, he made 12 receptions for 234 yards and two touchdowns.
It has been more of the same for No. 6 in red and gray during his senior farewell tour for the Saints. In helping St. Christopher's to a 5-0 start, Greene, who also plays cornerback on defense, has 19 grabs for 388 yards and eight touchdowns.
Greene is at least the second national-caliber recruit to play under Coach Clelland in recent years. Garrett Taylor went on to become a team captain and starting safety at Penn State.
Coach Clelland also knows about high-intensity recruiting from a personal standpoint. He and his brother, Lane, were big-time recruits in Maryland. Lance went on to play at Northwestern University; Lane at the University of Notre Dame.
The football season won't end for Greene following the state playoffs. In January, he will play in the Under Armour All-America Game in Orlando.
Being selected for the nationally televised all-star game is another honor Greene can add to his lengthy checklist.