House District 69: Delegate Betsy B. Carr, Democrat (incumbent) vs. Dr. Sheila M. Furey, Republican
Chip Lauterbach | 10/21/2021, noon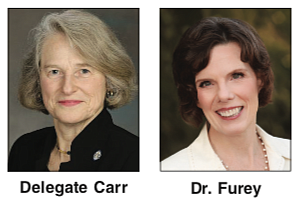 Delegate Betsy B. Carr is looking to secure a seventh term in the House of Delegates in a district that is solidly Democratic.
House District 69 covers portions of Richmond largely south of the James River, although it also takes in some areas north of the river, including Maymont, Randolph, Oregon Hill and The Carillon. The district also stretches south into a portion of Chesterfield County.
Delegate Carr, who has represented the district since 2009, is facing Republican challenger Dr. Sheila M. Furey, a psychiatrist who has a private practice in the Richmond area.
Delegate Carr serves on the Appropriations, Transportation, General Laws and Rules committees and has supported health care expansion, women's reproductive rights and gun control measures in the Commonwealth.
For the last 16 years, she has served as outreach director at St. Paul's Episcopal Church in Downtown and is a founder and former director of the Micah Initiative, which has partnered scores of faith groups with Richmond elementary schools for mentorship and tutoring for students.
Before her election to the House of Delegates, Delegate Carr served on the Richmond School Board from 2006 to 2009.
Dr. Furey is a native of Iowa. She has spent her career working with children and adults with mental illness, substance abuse and victims of trauma.
She moved to Virginia in 2000 with her husband and two children and set up a medical practice locally.
A breast cancer survivor, Dr. Furey is pro-life and supported less government regulation surrounding COVID-19 restrictions. She pushed for the reopening of schools, saying the closure was denying children quality education and increasing anxiety, depression and suicidal behaviors among children.
She believes taxes must be lowered to help businesses recover from COVID-19 closures and limitations and calls herself a champion for the 2nd Amendment right to bear arms.
Dr. Furey also supports a review of sentencing laws and guidelines to allow offenders to continue to work as a form of rehabilitation and support for their families.
Delegate Carr has a huge fundraising advantage over Dr. Furey. Campaign finance reports show Delegate Carr has raised $362,003 as of Sept. 30, while Dr. Furey has raised $23,298.