The Continentals give 'Gift of Warmth'
12/19/2014, 5:55 a.m.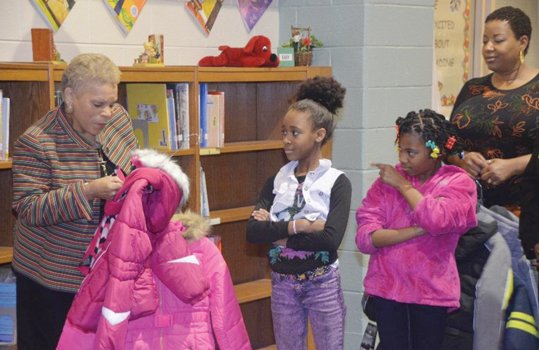 As winter descends upon us, many Richmond children face cold days without a coat to protect them from the elements.
The Richmond Chapter of Continental Societies Inc. is helping to change that.
Since 1985, the service organization has provided more than 3,000 coats to youngsters in Richmond Public Schools.
"We go where the need is," said Nkechi George-Winkler, chapter president.
The group's Gift of Warmth program kicked off Dec. 3 at Blackwell Elementary School on South Side.
Ms. George-Winkler, along with Beverly Davis and Gwen Drayton, the chairwoman and co-chair, respectively, of the Gift of Warmth Committee purchased more than 300 coats at Macy's locations around the Richmond area, taking advantage of a sale.
"These are quality coats," Ms. George-Winkler said.
The Continentals gave more than 100 coats to students at Blackwell Elementary, and will give away the rest to students at J.E.B. Stuart Elementary and Fairfield Court Elementary.
Ms. George-Winkler said the organization has worked with Blackwell, Stuart and Fairfield Court in the past, but stressed that The Continentals try to meet all needs when they receive requests.
"Recently, we were contacted by Overby-Sheppard Elementary School," Ms. George-Winkler said. "We hadn't worked with them before, but we went there and gave them some coats."
The money to purchase the coats comes from the chapter's annual Elegance in Black and White Gala.
This year's black-tie gala will be held 7 p.m. Friday, Dec. 19, at a Downtown hotel. For the second year, the event will include honoring a Champion for Children.
This year's champion is U.S. Rep. Robert C. "Bobby" Scott, D-Va.
Rep. Scott will begin his 12th term in Congress next month. He is the senior member of Virginia's congressional delegation and its only African-American member. He previously served in both chambers of the Virginia General Assembly.
The Richmond chapter has hosted the Elegance in Black and White Gala since 1978. It is the largest fundraiser for the organization and helps support not only the coat program, but education scholarships for graduating high school seniors and college undergraduates, seminars, and other programs, Ms. George-Winkler said.
Tickets for the gala are $95.
The Continentals, founded in 1956, is a women's service organization with 48 chapters in 20 states, the District of Columbia and Bermuda. According to its website, the organization is dedicated to the uplift of children and youths, and helps more than 250,000 children each year.