Solange Knowles marries former Richmonder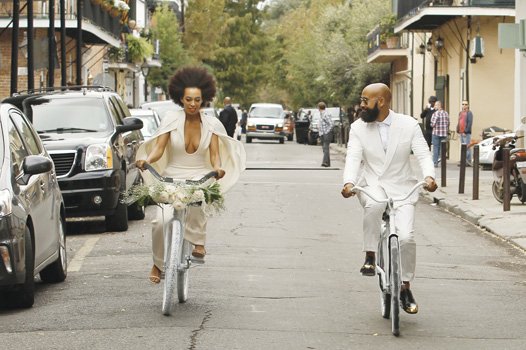 NEW ORLEANS
New Orleans is known for epic celebrations.
And Sunday's wedding of Solange Knowles, Beyoncé's younger sister, and Richmond native Alan G. Ferguson will go down in "The Big Easy" as one for the ages.
About 200 family and friends enjoyed the glitzy, star-studded weekend celebration, including superstar couple Beyoncé and husband Jay-Z, who joined Ms. Knowles, 28, a singer, songwriter and model, and Mr. Ferguson, a videographer and music video director whose family still lives in Richmond.
Mr. Ferguson, 51, has worked with the Knowles family as well as other major names in show business, including John Legend and Katy Perry.
He directed two of Beyoncé's videos, "Party" and "Dance for You," winning a BET Award for Best Video Director for his efforts.
He also directed some of Jay-Z's older hits, including "Feelin' It" from his 1996 debut album, "Reasonable Doubt."
Born and raised in Richmond, Mr. Ferguson is the son of the late William Alfred Ferguson Sr., who graduated from Maggie Walker High School, served in the Army during World War II and was a U.S. Postal Service letter carrier for 35 years.
His mother, Winifred Hocker Ferguson, lives in Henrico County. She had not returned calls from the Free Press seeking details about the wedding by the newspaper's deadline.
The non-stop wedding weekend festivities included a group movie night, partying aboard three large buses, stopping for impromptu block parties and dancing for 10 blocks through the streets of New Orleans accompanied by a live band.
In lieu of a rehearsal dinner Friday night, the couple invited family and friends to a New Orleans art house cinema to watch the 1975 movie classic, "Mahogany," starring Diana Ross and Billy Dee Williams. It was the movie Mr. Ferguson and Ms. Knowles saw on their first date.
On Saturday night, members of the wedding party, including Ms. Knowles, Beyoncé and Jay-Z and singer Janelle Monae, joined the crowd at the Hi Ho Lounge for DJ Soul Sister's long-running disco, funk and soul dance party "Hustle."
Bucking tradition, everyone wore white to the regal wedding, which was held Sunday afternoon at New Orleans' resplendent Marigny Opera House, originally built in 1847 as Holy Trinity Catholic Church.
Beyoncé and Jay-Z arrived for the ceremony with their 2-year-old daughter, Blue Ivy. Witnesses described the couple, rumored on the verge of a break-up after an elevator spat between Ms. Knowles and Jay-Z last spring, as "totally into it and so affectionate."
Wearing huge smiles, the bride and groom rode matching white vintage bikes through New Orleans to the wedding venue. Ms. Knowles' bike was adorned with white roses.
Wearing a Stéphane Rolland jumpsuit with an attached cape for her bike ride, Ms. Knowles then changed into a stunning Humberto Leon for Kenzo floor-length gown and cape for the wedding ceremony.
A stunning photo shoot by Rog Walker captured the wedding party's women, all in white.
A wedding guest told People magazine the couple was "Beaming. Calm. They looked pretty calm, relaxed on their wedding day."
Ms. Knowles walked down the aisle to one of the couple's favorite songs, a symphonic instrumental of late singer Donny Hathaway's "I Love the Lord, He Heard Me Cry."
Musician friends Kelela, Questlove and Kindness also performed.
In keeping with New Orleans tradition, the wedding reception included a brass band parade.
At the reception, a sumptuous dinner was served — shrimp and grits, oyster and artichoke bisque, paupiette de poulet and bread pudding and pineapple foster for dessert.
After exiting the church, the newly married couple and others held lit sparklers in front of their party bus, known as "The Boom Boom Room." The party then made its way to the New Orleans Museum of Art for a second reception.
A dance-off between Ms. Knowles and her 10-year-old son, Daniel Julez, to "No Flex Zone" added an exclamation mark to the event. Party buses then transported the wedding party and about 100 guests to the French Quarter, where they partied across 10 blocks.
On Monday, the still beaming bride wrote on Instagram: "Yesterday, I had the best day of my life and ended it with an abundance of peace, love over flowing through me like never before."
This is Ms. Knowles' second marriage.