Serena ties the knot!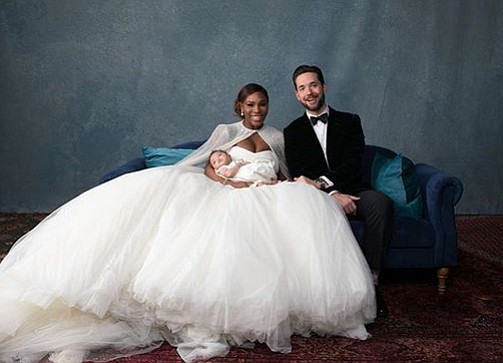 Glitter and glamour were served up at the fairy tale-inspired nuptials last week of tennis star Serena Williams and her new husband, Reddit co-founder Alexis Ohanian.
The couple tied the knot on Thursday, Nov. 16, at the Contemporary Arts Center in New Orleans, with Vogue magazine having exclusive rights to cover the star-studded, French ball-themed event.
The 36-year-old bride made her grand entrance in the "Beauty and the Beast" styled décor, complete with a gold arch of flowers at the end of the aisle, long tables covered in lamé fabric and lots of surprises.
Her bridesmaids, all dressed in white, already had walked down the aisle, among them her older sister and tennis doubles partner, Venus Williams, and their mother, Oracene Price, who carried Baby Alexis, the happy couple's daughter, who was born on Sept. 1.
The bride's dress, a stunning strapless white ball gown and cape, was created by Sarah Burton for Alexander McQueen, the designer who also made Kate Middleton's wedding dress. The dress sparkled with a reported $3.5 million in jewels.
Mr. Ohanian wore a made-to-measure Armani tuxedo with a midnight blue velvet jacket and shirt accessorized with Gucci cuff links. He changed into a traditional jacket with shawl collar for the reception.
The loving couple recited vows they wrote themselves and exchanged rings, with Mr. Ohanian slipping on Serena's finger a wedding band next to a diamond engagement ring, 14 carats in all.
For the reception dinner, Serena changed into a white, floor-length, feathery and beaded Versace dress, followed by a short white Versace dress with flouncy skirt and sparkling tennis shoes for dancing at the after-dinner party.
Celebrity guests included Béyoncé, Kelly Rowland, Ciara, Eva Longoria and Kim Kardashian West.
The couple was spotted three days after the wedding, dressed down in gray sweats, T-shirt and jeans and ballcaps, getting into a private jet for their honeymoon with Mr. Ohanian handling Alexis in the baby carrier.
The tennis star has won 23 Grand Slam singles titles, a record for the professional era. She hasn't competed since winning the Australian Open last January — while pregnant — but has said she intends to return to the tennis tour for that same event next January.