Lou Anderson honored with Lifetime Achievement Award
Fred Jeter | 4/16/2015, 9:09 a.m.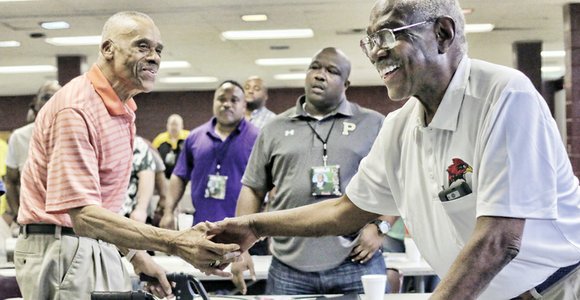 Virginia Union University has honored former Virginia State University Coach Lou Anderson with VUU's Lifetime Achievement Award.
The presentation was made during VUU's 2nd Annual Legends Clinic on April 11 at the Henderson Center on the Richmond campus by VUU head football Coach Mark James and assistant Coach Aaron Taylor.
More than 50 high school and college coaches from the Richmond area attended the clinic.
Coach Anderson led the VSU Trojans football team from 1990 to 2001, and was CIAA Coach of the Year in 1995 and 1996. He was inducted into the CIAA Hall of Fame in 2013 and the City of Richmond Athletic Hall of Fame earlier this year.
Before that, he served many years as football coach at Maggie Walker, Marshall-Walker and Armstrong high schools in Richmond.
Many of Coach Anderson's high school games were played at VUU's Hovey Field.
Clinic participants also heard from John Blake, former head football coach at the University of Oklahoma and former defensive line coach for the Dallas Cowboys and at the University of North Carolina-Chapel Hill.
Coach Blake is considered among the nation's top college football recruiters.