Coaching legend Lou Anderson dies at age 87
Fred Jeter | 10/19/2023, 6 p.m.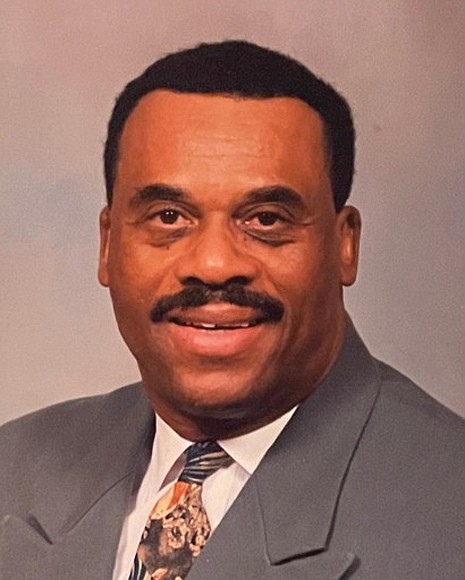 Louis "Lou" Anderson Jr., who spent most of his adult life coaching football and, more importantly to him, influencing the lives of young men, died Friday, Oct. 13, 2023.
Mr. Anderson was 87 and had been in an assisted living facility for several years.
A native Richmonder, Mr. Anderson was a star football player and top student at Maggie L. Walker High School, where he played under Fred "Cannonball" Cooper.
From Walker, he went to HBCU Kittrell College in North Carolina and HBCU Claflin University in South Carolina. Following college graduation with a degree in history, Mr. Anderson began his career in education. His first coaching/teaching stop was at segregated Luther Foster High in Nottoway County from 1961 to 1968.
Next, he moved back to Richmond and served one season as an assistant coach at Thomas Jefferson High before landing the Walker job in 1970, where he succeeded his old coach, Mr. Cooper.
Two men who knew and admired Mr. Anderson most were Howard Hopkins, who was the athletic director at Walker in the 1970s, and Richard McFee, who coached with Mr. Anderson.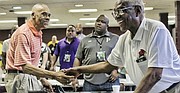 Here's what they had to say:
Mr. Hopkins: "Lou had a way of finding the best in a kid and did that for everyone. He was just as committed about their progress in the classroom as he was on the football field.
"He emphasized having good manners, starting at home and extending to the classroom, and interacting with adults.
"Very rarely did any of Lou's players get in trouble."
Mr. McFee: "Lou was a great man. He taught me so much about how to coach other people's children and about life lessons.
"Much of what I learned from Lou is what I applied at Huguenot. For example, he taught me how to watch game films and look for little things others might not.
"Lou molded teenagers into adults ... he helped make them all they could be."
Mr. Anderson coached Walker from 1970 until 1978, when Walker merged with John Marshall to become Marshall-Walker. He continued as Marshall-Walker coach until 1985.
His final season at Maggie Walker was significant in that it resulted in "an end to an era" in local football. For decades, the Walker-Armstrong Classic on Thanksgiving weekend had been a bold-letter event for Black people throughout the area.
This came to a head in 1975, when Mr. Anderson's Green Dragons were undefeated but ineligible for the State playoffs due to the late date of the "Classic."
Loaded with talent in '75, many felt Walker was a threat to win the State Group AAA crown. We'll never know.
With the merger, the "Classic" was moved to a date earlier in the year and lost its pizzazz.
Mr. Anderson sent dozens of athletes off to play college football. Among the most notable was Anthony Leonard, who went on to star next door at Virginia Union and later in the NFL.
Others were Walter Carter, who went on to play at Florida State, and Weldon Edwards who became the University of Richmond's first Black player.
Mr.Anderson had a close relationship with Virginia Union Coach Willard Bailey. He scouted for Coach Bailey and helped run the annual National Youth Sports Program on the VUU campus.
In 2021, the John Marshall High School field was named in Mr. Anderson's honor.
Following five seasons at Marshall-Walker, Mr. Anderson coached one season at Armstrong and, from there, became head coach at Virginia State University.
He guided the Trojans from 1990 to 2001, posting a record of 65-44 that included CIAA titles in 1995 and 1996. He was CIAA Coach of the Year in 1993 and 1995.
His standouts at VSU included lineman James Brown, who went on to a lengthy NFL career.
In 2018 he received VSU's Varsity Club Humanitarian Award for service in the college community.
Mr. Anderson was inducted into the VSU Athletic Hall of Fame in 1999. He also is a member of the John McLendon CIAA and Richmond High Schools Halls of Fame.
Following retirement from coaching, he was a familiar face at The Diamond during the summer months. His game-night duties included assisting with the Richmond Braves' visiting team's needs.
Mr. Anderson loved baseball and continued to attend Rich- mond games, cheering on the home team from his wheelchair until his health failed.
Survivors include his four children, Cynthia Barrett, Brenda Davis, Glenn Anderson and Keesha Anderson, and siblings Margarieta Anderson, Helen Bledsoe, Dorothy Henderson, Jean Foxworth and Glenn R. Anderson.
Remains rest at Joseph Jenkins Jr. Funeral Home, 2011 Grayland Ave. where the family will receive friends Thursday from 6 to 7:30 p.m. Funeral services will be 11 a.m. Friday at Trinity Baptist Church, 2811 Fendall Ave.