Virginian inducted into Pro Football Hall of Fame
Fred Jeter | 8/14/2015, 7:47 a.m. | Updated on 8/14/2015, 7:47 a.m.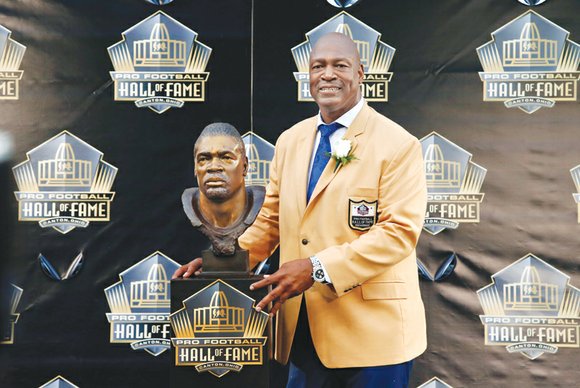 Virginia is known as the "birthplace of presidents."
It's also a cradle of NFL pass-rushing, quarterback-crunching defensive Hall of Famers.
With the induction of Charles Haley on Aug. 8 into the Pro Football Hall of Fame, Virginia can claim five of the most ferocious defenders in gridiron history. And all embarked on their Hall of Fame journeys to Canton, Ohio, from within 115 miles of Richmond City Stadium.
Haley is a symbol for team success.
From tiny, unincorporated Gladys, near Brookneal in Campbell County, Haley starred at William Campbell High School and James Madison University before joining the NFL's San Francisco 49ers in 1986.
He became the only man in NFL history to play on five Super Bowl championship teams — three with the 49ers and two with the Dallas Cowboys.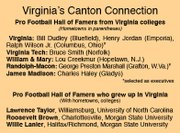 In a 12-season career as defensive end/linebacker, Haley had 100.5 sacks (a high of 16 in 1990), 498 total tackles and was twice named the NFC Defensive Player of the Year.
He also holds the record for the most sacks in Super Bowls — 4.5.
He was selected five times for the Pro Bowl.
The 6-foot-4, 255-pound Haley is also in the Virginia Sports Hall of Fame, the College Football Hall of Fame and the Texas Black Sports Hall of Fame. He also was enshrined into the Dallas Cowboys Ring of Honor.
In order of their Pro Football Hall of Fame inductions, here are Virginia defensive wrecking balls who preceded Haley in having their bronzed busts displayed in Canton.
Consider this: Sacks did not become an official NFL statistic until 1981.   
Willie Lanier (induction 1986): Born in Halifax County but raised in Richmond; starred at Maggie Walker High School and Morgan State University before becoming a Kansas City Chiefs middle linebacker 1967-77; was an eight-time All-Pro pick and a star of the Chiefs' Super Bow IV victory. 
Henry Jordan (1995): From Emporia, he became a mainstay at tackle on Green Bay's tremendous defenses in the 1960s under Vince Lombardi; a seven-time All-Pro who played on five NFC championship teams and was part of Super Bowl I and II victories.
Lawrence Taylor (1999): "L.T." starred at Lafayette High School in Williamsburg and was an All-American at the University of North Carolina before his pro career, 1981-1997, with the New York Giants; was a 10-time All-Pro, accumulated 1,099 tackles, 137.5 sacks and played on New York's XXI and XXV Super Bowl championship teams.        
Bruce Smith (2009): The Booker T. Washington High School in Norfolk and Virginia Tech great became the NFL's all-time sack leader with 200, playing with Buffalo and Washington, 1985 to 2003; named NFL Defensive Player of the Year in 1990 and 1996.
Just a handful of players ever reach the Pro Football Hall of Fame. A few other NFL defensive stoppers with Virginia ties were:
Ronde Barber (Cave Spring High School in Roanoke, University of Virginia): Playing with Tampa Bay 1997 to 2012, he had 47 interceptions and set the NFL record for most sacks by a cornerback (5.5 in 2000).
Larry Brooks (Prince George High School, Virginia State University): Was the key man on the Los Angeles Rams' line 1972 to 1982; All-Pro in 1977 and 1979; credited with nine sacks in 1973 (team stats).
Earl Faison (Huntington High School in Newport News, Indiana University): Was among the early AFL stars while playing for the powerhouse San Diego Chargers; named AFL Rookie of Year in 1961 and five-time All-AFL pick.