Charles Oakley, fifth VUU inductee into Virginia Sports Hall of Fame
Fred Jeter | 5/6/2016, 6:09 p.m.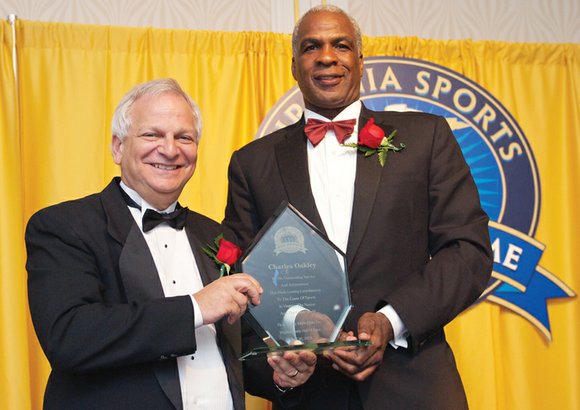 Charles Oakley has completed the journey.
A native of Cleveland, Oakley arrived in Virginia in 1981 as an 18-year-old freshman basketball player at Virginia Union University.
It was the start of great things.
Last Saturday, the powerful 6-foot-8 athlete known as "Oak" was inducted into the Virginia Sports Hall of Fame in Portsmouth.
"It's a great moment," he said in his induction speech.
"Family, friends, people who cheered me on, people who watched me play … they get a chance to see me in person, to come to the Virginia Hall of Fame. It's a beautiful thing."
Playing under former VUU Coach Dave Robbins, Oakley accumulated 2,273 points and grabbed 1,664 rebounds in four brilliant, All-CIAA seasons.
As a VUU senior in 1984-85, Oakley led the NCAA Division II in rebounding and was named National Player of the Year while helping VUU to a 30-1 record.
The Panthers were ranked No. 1 nationally all season before being upset by Winston-Salem State University in the first round of NCAAs.
From VUU, Oakley became a NBA first-round draft choice by the Cleveland Cavaliers and was among the top rebounders of his era.
In 18 NBA seasons, mostly with the Chicago Bulls and the New York Knicks, Oakley had 12,417 points, 12,225 rebounds and 3,217 assists.
Five times between 1987 and 1994, he ranked in the NBA's Top 10 in rebounding.
Also a member of the VUU and CIAA halls of fame, Oakley played in 1,282 NBA regular-season games and 144 playoff contests.
The consistent forward known for his rugged style under the boards averaged 9.7 points and 9.5 rebounds for his career.
He becomes the fifth person from VUU to enter the Virginia Sports Hall of Fame. Previous inductees are athlete/coach Henry Hucles, football great Herb Scott, Coach Robbins and basketball standout Ben Wallace.
In addition to Oakley, others inducted into the Virginia Sports Hall of Fame's Class of 2016 included Charlie Stukes, a defensive back from Maryland State (now University of Maryland, Eastern Shore), who went on to stardom with the NFL Baltimore Colts.
The Chesapeake native had 32 career NFL interceptions and was a member of the Baltimore Colts' 1971 Super Bowl championship team.
Also inducted was football linebacker James Farrior, who starred at Matoaca High School in Chesterfield County, the University of Virginia and then with the New York Jets and Pittsburgh Steelers in the NFL.
Nicknamed "Potsie" by his parents, Farrior was a defensive stalwart on the Steelers' 2006 and 2009 Super Bowl championship teams. In 230 career games, he is credited with 1,415 tackles.