Former Globetrotter Marques Haynes dies at 89
Free Press wire reports | 6/5/2015, 6:47 p.m. | Updated on 6/5/2015, 10:51 p.m.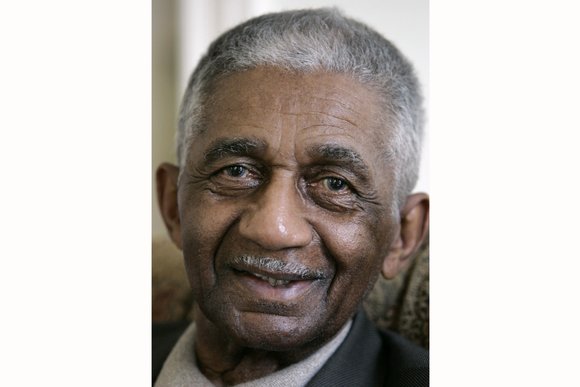 PHOENIX
Marques Haynes' dribbling skills wowed fans in more than 100 countries. He was a showstopper, a player who helped make the Harlem Globetrotters beloved ambassadors of basketball around the world.
Mr. Haynes, often called the greatest dribbler in basketball history, was laid to rest Friday, May 29, 2015, in Plano, Texas, where he had lived since the 1970s. Mr. Haynes died of natural causes Friday, May 22, 2015. He was 89.
"Basketball has lost one of its most iconic figures," Globetrotters CEO Kurt Schneider said.
In two stints with the touring team — from 1947 to 1953 and 1972 to 1979 — Mr. Haynes played in more than 1,200 games for a team that combined dazzling skills, theatrical flair and comedic antics.
The Globetrotters will dedicate their 90th anniversary tour in 2016 to Mr. Haynes and will wear a uniform patch in tribute.
"Marques was a pioneer, helping pave the way for people of all races to have opportunities to play basketball, and for the sport to explode on a global scale," Mr. Schneider said. "His unique and groundbreaking style of play set the tone for modern basketball as we know it. Anyone involved with basketball worldwide is indebted to Marques. He was the consummate Globetrotter."
While playing at Langston (Oklahoma) University, the acrobatic Mr. Haynes caught the attention of Globetrotters owner Abe Saperstein in 1946 after leading Langston to a win over Globies. Mr. Haynes remained at the school, but after graduation joined the Globetrotters. He led them to victories against the George Mikan-led Minneapolis Lakers of the NBA in 1948 and 1949.
Mr. Haynes was more than a mere showman on the court, although his dribbling skills were eye-popping displays that often had opponents standing and watching in awe. He led Booker T. Washington High School in his hometown of Sand Springs, Okla., to the unofficial national championship in 1941 and was a scholastic All-American that season. He then starred at Langston, an NAIA school where he was a four-time all-conference selection and team MVP.
Mr. Haynes led Langston in scoring all four years and the team had a 112-3 record, including a 59-game winning streak. The Globetrotters retired Mr. Haynes' No. 20 jersey in 2001, one of only five players to be so honored.