'Meadowlark' Lemon
Harlem Globetrotters star dies at 83
1/1/2016, 9:39 a.m.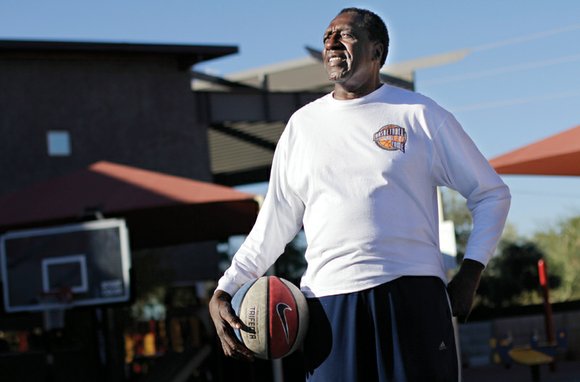 In winter 1960, an advertisement appeared in the Waynesboro News-Virginian announcing the Harlem Globetrotters were coming to town. A little boy who had become intrigued with the Globetrotters by watching them on television was given the best birthday present ever — a $6 ticket to see the show at the Waynesboro High School gymnasium. Meadowlark Lemon dazzled everyone in the packed house that night — especially a little boy, sitting by himself, who couldn't help but ooh and ahh, laugh and smile.
It was a smile that has never quite worn off.
Now multiply that smile by millions all over the world and you might begin to understand the legacy of Meadowlark Lemon.
Basketball icon/entertainer Meadow Lemon III, known worldwide as Meadowlark Lemon, died Sunday, Dec. 27, 2015, in Phoenix.
Mr. Lemon, the star attraction with the touring Harlem Globetrotters from 1954 to 1980, was 83.
Nicknamed the "Clown Prince of Basketball," Mr. Lemon became famous for his sleight-of-hand, ball-handling trick shots and, most of all, the art of making people of all ages and backgrounds laugh out loud and keep coming back for more.



While he may be most remembered for his comical, theatrical style, Mr. Lemon was a tremendous athlete who excelled at all aspects of basketball.
His 1958-59 teammates included none other than Wilt Chamberlain, who spent one season with the Globetrotters after leaving the University of Kansas a year early.
Here's what Chamberlain said of Mr. Lemon in a New York Times interview in 1999:
"Meadowlark was the most sensational, awesome, incredible basketball player I've seen … people would say it's Dr. J or even Jordan. For me, it would be Meadowlark Lemon."
Raised by an aunt and uncle, Mr. Lemon grew up in Wilmington, N.C. As an 11-year-old, his life turned when he saw a newsreel of the Globetrotters at Wilmington's Ritz Theater. A spark was lit that never dimmed.
"They seemed to make that ball talk," Mr. Lemon said when inducted into the Basketball Hall of Fame in 2003. "I said, 'That's mine. This is for me.' I was receiving a vision, I was receiving a dream in my heart."
Drawing on inspiration, but minus hardly a penny in his pocket, he devised a hoop made of an onion sack and a wire coat hanger and nailed it to a tree.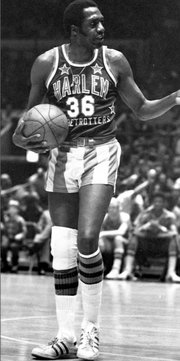 For a ball, he used a Carnation evaporated milk can he salvaged from a garbage can.
From such humble roots evolved a player who would become world famous. Mr. Lemon performed before two popes and in front of Russian leader Nikita Khrushchev during the height of the Cold War.
He thrilled sellout crowds playing at a bullring in Mexico and in a drained swimming pool in Germany.
Many times, he entertained at the Richmond Arena and the Richmond Coliseum, as well as at high school gymnasiums and small venues spanning the globe.
Mr. Lemon became synonymous with the pre-game "Magic Ring," where he showcased his passing skills to the team's theme song, "Sweet Georgia Brown."
The team's website said he played in 7,500 consecutive games — the equivalent of more than 92 NBA seasons — in some 100 countries.
But basketball was only the first chapter of his extraordinary life.
In 1986, Mr. Lemon became an ordained minister.
"To be a child of God is the highest honor any man can have," he said in his memoir.
And it all started with a trip to the movies.
"God planted the dream in my heart as I sat there in the Ritz Theater," he said. "He gave me the relentless desire, determination, energy and the talent to make it all come true."
Mr. Lemon left the Globetrotters in 1980, but returned for 50 games in 1994. He also started three comedy-basketball teams of his own over the years but none caught on like the Globetrotters.
In the 1979 movie, "The Fish That Saved Pittsburgh," Mr. Lemon played a basketball-playing minister.
He was married twice and had 10 children. In 2015, his ex-wife, whom he divorced in 1977, and 48-year-old son sued him for $250,000 in child support they said he did not pay.