History-making golfers die days apart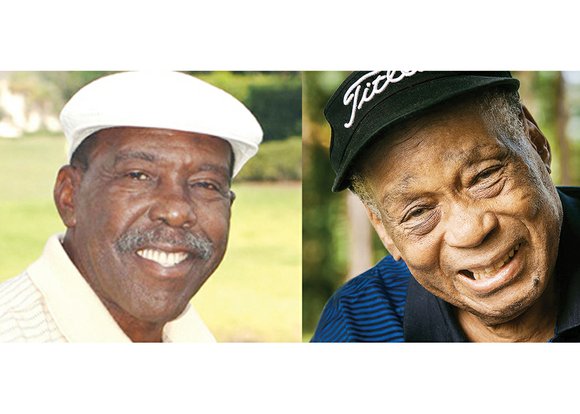 Two of professional golf's successful African-American golfers have died — Calvin Peete and Pete Brown.
Mr. Peete, the most successful African-American professional golfer on the PGA Tour prior to Tiger Woods, died Wednesday, April 29, 2015, in Atlanta.
Reports are that the 71-year-old Detroit native died of lung cancer.
Mr. Brown, the first African-American player to win a PGA Tour event, died Friday, May 1, 2015, in Augusta, Ga.
He was 80. Details on the cause of death were not available.
The straight-hitting Mr. Peete, who overcame physical hardship as a youngster and took up golf at age 24 in Rochester, N.Y., won 12 PGA Tour events, 11 of them claimed between 1982 and 1986.
His best year was 1982 when he won four tournaments and finished fourth on the money list. His four victories matched Craig Stadler and Tom Watson for most on the tour that year.
Between 1981 and 1990, Mr. Peete led the tour in driving accuracy, despite playing with a left arm he could not totally extend because of a broken elbow suffered in a childhood fall.
He was the fourth African-American to win on the PGA Tour, joining Mr. Brown, Charlie Sifford and Lee Elder.
"Calvin was an inspiration to so many people," PGA Tour Commissioner Tim Finchem said in a statement. "He started in the game relatively late in life but quickly became one of the tour's best players.
"I can still remember watching Calvin hit drive after drive straight down the middle of the fairway, an amazing display of talent he possessed despite some of his physical limitations."
Mr. Peete was a member of U.S. Ryder Cup teams in 1983 and 1985, compiling a 4-2-1 record. He also won the Vardon Trophy for lowest stroke average in 1984 and, in 1985, added the Players Championship to his wins list.
Mr. Brown joined the PGA Tour in 1963, two years after Mr. Sifford broke the color barrier. Mr. Brown was the first African-American player to win an event, clinching the 1964 Waco Turner Open in Burneyville, Okla. He also won the 1970 Andy Williams-San Diego Open.
A native of Port Gibson, Miss., Mr. Brown survived polio as a child and learned to play golf in Jackson, Miss., after first working as a caddie.
Commissioner Finchem called Mr. Brown a gentleman and a credit to the game.
Mr. Brown played until 1978.
Funeral arrangements for both golfers had not been announced by the Free Press deadline.