Trailblazing golfer Lee Elder, the first Black to play in the Masters Tournament, dies at 87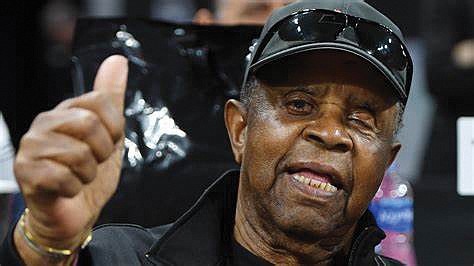 Golfer Lee Elder played through the scourge of racism. He broke down enormous barriers. He carved a path for Tiger Woods and others to follow.
Finally, in the waning months of his life, he took his rightful place at Augusta National alongside the greats.
Mr. Elder, who fought through numerous obstacles to become the first Black golfer to play in the Masters Tournament, died early Sunday, Nov. 28, 2021, at the age of 87, in Escondido, Calif., the PGA Tour announced Monday.
"The game of golf lost a hero," 18-time major champion Jack Nicklaus said.
His death was first reported by Debert Cook of African American Golfer's Digest. No cause was given, but Mr. Elder had been in poor health and wore an oxygen tube when he attended the Masters in April.
At this year's Masters, Mr. Elder was given the honor of hitting a ceremonial opening tee shot alongside Mr. Nicklaus, a six-time Masters champion, and Gary Player, who won the green jacket three times.
Sadly, Mr. Elder was not well enough to take a swing at a ball he once hit with so much power.
But he stood briefly to acknowledge the cheers of the gallery, holding up his driver, and watched proudly from a chair at the first tee as Mr. Nicklaus and Mr. Player hit the shots that traditionally open the first major championship of the year.
"For me and my family, I think it was one of the most emotional experiences that I have ever witnessed or been involved in," Mr. Elder said at the time.
A Texan who developed his game during segregated times while caddying and hustling for rounds, Mr. Elder made history in 1975 at Augusta National, which had held an all-white tournament until he received an invitation after winning the Monsanto Open the previous year.
Mr. Elder missed the cut at his first Masters but forever stamped himself as a ground-breaking figure in a sport that had never been known for racial tolerance.
Twenty-two years later, Mr. Woods became the first Black golfer to capture the green jacket, launching one of the greatest careers in golf history.
"Lee Elder was a pioneer, and in so many ways," Mr. Nicklaus wrote on his Twitter account. "Yes, he was the first Black golfer to play in the Masters Tournament, but that simply underlined the hard work Lee put in to further the cause of everyone who has a dream to play on the PGA Tour and perhaps thinks there were too many barriers before them."
After Mr. Woods' record 12-stroke victory in 1997 — the first of his five Masters titles and 15 major championships overall — he reflected on the contributions of Black golfers such as Mr. Elder and Charlie Sifford, the tour's first Black player.
"I thought about those guys coming up 18," Mr. Woods said that evening. "I said a little prayer and said thanks. I wasn't the first. I wasn't the pioneer. I thank them. I think that's why this victory is even more special. Lee, because of what he did, I was able to play here. Because of Charlie, I was able to play on the PGA Tour. I lived my dream because of those guys."
Fred Ridley, chairman of Augusta National and the Masters, called Mr. Elder "a true pioneer in the game of golf."
"Lee was an inspiration to so many young men and women of color not only through his play, but also through his commitment to education and community," Mr. Ridley said in a statement. "His presence will be sorely missed, but his legacy will continue to be celebrated."
Mr. Elder got into golf as a caddie because that essentially was the only conduit Black players had to be permitted on the course. He was able to polish his game while serving in the Army and, after his discharge, joined the United Golf Association Tour for Black players in the early 1960s.
He developed into one of the UGA's best players, winning 18 of 22 tournaments in one dominating stretch, but meager prize money made it tough to earn a living. Finally, at the age of 33, Mr. Elder had saved up enough to afford PGA qualifying school, where he earned his first tour card for the 1968 season.
The highlight of his rookie year was a memorable loss to Mr. Nicklaus on the fifth hole of a sudden-death playoff at Firestone Country Club in Akron, Ohio.
Mr. Elder would go on to capture four PGA Tour victories and eight more wins on the PGA Tour Champions for 50-and-over players. He played in all four major championships, tying for 11th at both the 1974 PGA Championship and the 1979 U.S. Open.
His best finish in six Masters appearances was a tie for 17th in 1979. That same year, he was a member of the winning U.S. team at the Ryder Cup.