Va. pioneer to receive Medal of Freedom
97-year-old NASA mathematician headed to White House for highest civilian honor
Thomas Kidd | 11/20/2015, 7:36 p.m.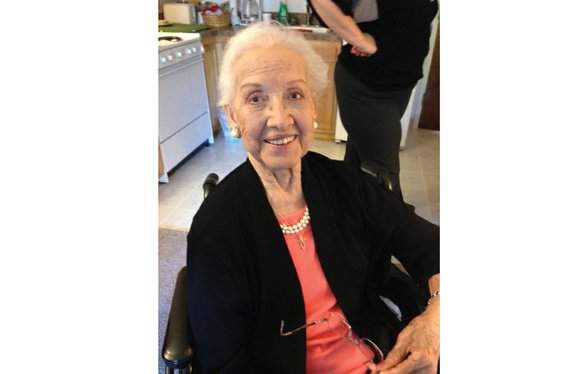 Former NASA mathematician Katherine Johnson could not have calculated her trajectory to the White House. 
The 97-year-old Newport News resident will be among 17 Americans receiving the Presidential Medal of Freedom — the nation's highest civilian honor — at the White House on Tuesday, Nov. 24. 
The Presidential Medal of Freedom is presented to individuals who have made meritorious contributions to U.S. security, national interest, world peace or cultural endeavors. 
Mrs. Johnson is being recognized for her pioneering work in America's aeronautics and space program with the National Advisory Committee for Aeronautics, the agency that preceded NASA.
Her mathematic computations have influenced every major space program — from America's first manned space flight by Alan Shepard in 1961 to Apollo 11 and Neil Armstrong's landing on the moon in 1969 and all the way to the Space Shuttle program.
When she started with NACA in1953, it "was a time when computers wore skirts," Mrs. Johnson said in a Feb. 5, 1997, interview. Her calculations, done by hand with pencil and paper, delineated the trajectory needed to get astronauts into space.
But before she was calculating the ascension of men to the stars, she was a star in mathematics in her hometown of White Sulphur Springs, W.Va.
At the time, White Sulphur Springs public schools had no school for African-Americans beyond eighth grade. So Mrs. Johnson's father moved the family so that his four children could complete their education. She graduated summa cum laude in 1937 from West Virginia State College with a degree in mathematics and French and began teaching in the West Virginia school system.
It was only after she and her husband moved to Hampton that she embarked on an illustrious career with NACA. She began her career with Langley Research Center as a pool mathematician with a group segregated both by race and gender. Her talent stood out, and she was "loaned" to the all-male flight research division.
Her knowledge proved to be invaluable and her assertiveness won her a permanent spot in the previously all-male division.
As the space program grew, she transitioned from the Flight Mechanics Branch to the Spacecraft Controls Branch and began calculating flight trajectories for America's first flights into space.
She has been recognized by the space organization with special achievement awards in 1970, 1980 and 1985. In addition, she has been awarded three honorary degrees from State University of New York (SUNY) in Farmingdale, Capitol Technology University and Old Dominion University.
So what was her reaction to the news this week that she was being invited by President Obama to the White House to receive the Presidential Medal of Freedom?
"Very laid back," her daughter, Joylette Hylick of Mount Laurel, N.J., told the Free Press.
"She usually responds to any accolades with, 'I was just doing my job. I loved it and I did it well.' "
Mrs. Johnson, now a grandmother who enjoys visitors at the retirement community where she lives with her husband in Newport News, is not so much focused on receiving the award as she is with the opportunity to bend the president's ear.
"She's always wanted to talk with the president about how children are being educated today, " added Mrs. Hylick.
Mrs. Johnson retains her passion for learning and is tireless in her efforts to get young people interested in learning — especially in the areas of science and technology.
"She will tutor students today, if they ask her," Mrs. Hylick said.
Not just an academic, Mrs. Johnson was an avid tennis and golf player during her younger years. Today, she still enjoys getting outside and will entertain any academic conversation.
"She holds court regularly. She loves to engage with people who she can learn something from," her daughter said.
The world may have an opportunity to learn more about her life as a children's book and a motion picture biopic are being considered for future release. Casting will begin next year, and Mrs. Johnson and her family are watching with a careful eye how Hollywood portrays the humble scientist.
"We don't want anything sensationalized because that's not the type of person she is," Mrs. Hylick said.
Other Presidential Medal of Freedom recipients:
Yogi Berra (posthumous), who spent 40 years as a professional baseball catcher, manager and coach.
Bonnie Carroll, a retired major in the Air Force Reserve, who founded TAPS, Tragedy Assistance Program for Survivors, to support families impacted by the death of their loved one serving in the military.
Shirley Chisholm (posthumous), who made history in 1968 by becoming the first African-American woman elected to Congress, beginning the first of seven terms in the House of Representatives. She made history again in 1972 by becoming the first African-American woman to seek the presidential nomination as a major party candidate.
Emilio Estefan, a music producer, entrepreneur, author and songwriter who has won 19 Grammy Awards and influenced a generation of artists.
Gloria Estefan, a singer, songwriter, actor and entrepreneur who introduced Latin music to a global audience.
Billy Frank Jr. (posthumous), a tireless advocate for Indian treaty rights and environmental stewardship.
Lee Hamilton, a former Indiana congressman, who has been influential on international relations and American national security for more than 40 years. After retiring from Congress, he was vice president of the 9/11 Commission and co-chair of the Iraq Study Group. He also has served as co-chair of the Independent Task Force on Immigration and America's Future.
Willie Mays, a professional baseball player who spent most of his 22 seasons as a center fielder for the New York and San Francisco Giants.
Barbara Mikulski, a U.S. senator from Maryland who has held elected office since 1971. In 2012, she was the longest serving woman in Congress and the first female senator to chair the Senate Appropriations Committee.
Itzhak Perlman, a renowned violinist, conductor and sought-after teacher who has won four Emmy Awards, 16 Grammy Awards and the 2008 Grammy Lifetime Achievement Award.
William Ruckelshaus, a former administrator of the Environmental Protection Agency under Presidents Richard Nixon and Ronald Reagan, who worked to protect public health and combat global challenges like climate change.
Stephen Sondheim, one of the nation's most influential theater composers and lyricists.
Steven Spielberg, noted film director, producer, philanthropist and entrepreneur. 
Barbra Streisand, who is acclaimed for singing, acting, directing, producing and songwriting. She has won an Emmy, Grammy, Oscar and Tony.
James Taylor, a recording and touring artist who has sold more than 100 million albums during the course of his songwriting and performing career. 
Minoru Yasui (posthumous), a civil and human rights leader. A graduated of the University of Oregon School of Law, he challenged the constitutionality of a military order during World War II on the grounds of racial discrimination, and spent the rest of his life appealing his wartime conviction.