Pope Francis embarks on African trip during Christian-Muslim tension
Reuters | 11/25/2015, 8:56 p.m.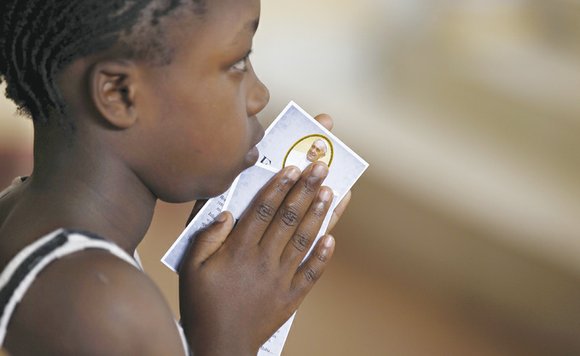 Pope Francis' first trip to Africa will highlight the problems of building dialogue between Christianity and Islam as both religions grow fast on the continent and threaten to widen an already volatile fault line.
Three countries on the pope's itinerary from Wednesday, Nov. 25, through Monday, Nov. 30 — Kenya, Uganda and the Central African Republic. All of the nations have been scarred by radical Islamist attacks or Muslim-Christian sectarian strife. Security concerns have meant the pope's trip will be kept relatively short.
With the backdrop, too, of the bloody attacks by Islamist militants in France and Mali, the pope's top advisers readily acknowledge the difficulties of conducting dialogue between Catholics and other Christian churches and Muslims.
"How can you dialogue with this mentality? There is no dialogue with extremists. Look at what they do," said Cardinal Robert Sarah, who is from Guinea in West Africa and one of the highest-ranking African officials at the Vatican.
Pope Francis has sought to heal relations between the faiths by saying that Christians would be wrong to equate Islam with violence. But the potential for collision between the two dominant faiths in Sub-Saharan Africa is expected to increase along with the population in coming decades.
Christianity and Islam in the Sub-Saharan region are both expected to have more than twice as many adherents in 2050 as they did in 2010, according to a study this year by the Pew Research Center on Religion and Public Life.
Christianity is projected to remain the region's largest religious group, up from 517 million adherents in 2010 to more than 1.1  billion in 2050. The Muslim population is expected to grow at a faster rate, rising from 248 million to 670 million, it said.
According to a study by the Center for Applied Research in the Apostolate at Georgetown University, the number of Catholics in all of Africa could more than double to 460 million by 2040.
Security concerns mean the pope's movements will be confined to the capitals of each nation. All the same, the Vatican says the pope will travel mostly in an open "popemobile" or a small car, eschewing bulletproof vehicles. A spokesman denied a report that Pope Francis would wear a bulletproof vest. 
Kenya, his first stop, has seen some of the worst violence. Two years ago, gunmen from the Somali militant group al Shabaab massacred at least 67 people inside Nairobi's Westgate shopping mall and held out for four days as security forces laid siege to the complex.
In Uganda, al Shabaab bombed sports bars where people were watching soccer's World Cup match on television in 2010.
Potentially, the pope's most hazardous stop is Nov. 28 and 29 in Bangui, the capital of the Central African Republic, where dozens of people have been killed since September in violence between Muslim Seleka rebels and Christian anti-balaka militias.