Morgan Bullock stands out in Irish dance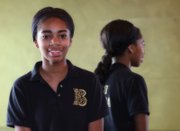 Morgan Bullock is starting to make a name for herself in the fast-growing arena of Irish dance.
In late March, the Richmond area teen placed 50th for her solo dancing in her first foray into World Irish Dance Championships, becoming the only Virginian to be ranked among the 200 competitors in the age 15-16 category.
She qualified to participate in the competition in Glasgow, Scotland, by placing among the top 15 dancers in regional competition in Dallas.
"I still have so much more to learn," said Morgan, a honor roll student at James River High School in Midlothian. She also is taking classes at John Tyler Community College through Chesterfield County Public Schools' dual enrollment program.
Still, dancing to Irish music is her passion.
"This is what I want to do the rest of my life."
Once little known, Irish dance has exploded in popularity as a result of such shows as "Riverdance" and champion Irish dancer Michael Flatley's "Lord of the Dance" that have been performed on stages around the world since the mid-1990s.
As an African-American, Morgan is still a rarity in this type of dancing. Ballet, tap, hip-hop and jazz styles are more popular with young African-Americans.
As a child, Morgan was among the legions of girls who began taking classes in those types of dance, with the support of her parents, Yvonne Bullock, an employee of the City of Richmond, and L. Ray Bullock, commissioner of the Mid-South Basketball Officials Association, a supplier of referees.
But at 10, Morgan said an instructor told her that her long legs made Irish dance a better fit for her.
She fell in love after trying the dance style, notable for its intricate and fast-paced footwork.

"You keep the upper body still," she said, while keeping the legs and feet moving.
The artistic routines require a high degree of athleticism, with jumps, leg kicks and a blur of foot movements that require focus and agility.
There also are Gaelic terms to learn in performing.
Morgan now trains at the Baffa Academy of Irish Dance on Huguenot Road in Chesterfield. The academy is owned and operated by sisters Jessica and Megan Baffa, Irish dance professionals who have performed with "Riverdance" and "Lord of the Dance" companies. They also have studios in Stafford County and Fredericksburg and are still expanding.

The third instructor, Emma Cross, also has toured with "Lord of the Dance."
Jessica Baffa said that Morgan has helped raise the profile of the two-year-old studio with her success at the world championships.
Morgan credits the instruction with propelling her in the field.
She is preparing to compete in the North American Irish Dance Championships to take place in early July in Orlando, Fla. Later in July, she will spend a week at an Irish dance camp at Kean University in New Jersey learning more about stage performance.
For her, that is just part of the preparation to achieve her dream of a dancing future.