Gift of the heart
Earl Fleming, a Richmond makeup artist, entertainer and advocate who has given so much to others, receives gift of life from stranger
12/23/2016, 5:08 p.m.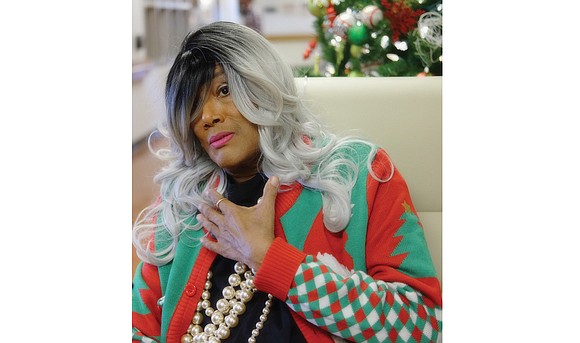 By Lauren Northington
This Christmas, one of Richmond's living legends, who has spent his life giving to others, received the most beautiful gift of all: The gift of life.
Earl Fleming, a celebrated makeup artist, drag performer, singer and Richmond LGBTQ community icon, underwent a long-awaited heart transplant on Thursday, Dec. 1.
Along with a new heart, the 63-year-old founder of the oldest existing African-American drag house in Virginia, House of Snow, received a new kidney to improve his chances for a full recovery and a second chance at life.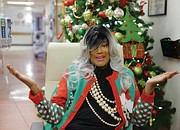 "Right at this moment that I'm talking to you," Earl said just hours after a cardiac catheterization last week that left his voice raspy, "I'm the happiest person I can be. I really am. I feel that I am a miracle."

After a decades-long battle with gout and chronic kidney problems, Earl was diagnosed with acute heart failure in 2008.
Even after his diagnosis, Earl maintained his unique role as cultural icon in Richmond, serving as emcee during the "Church Crown" fashion show at the Richmond Folk Festival and a judge for Glam Gurls modeling competitions while still doing makeup professionally.
Seemingly after every major setback for Earl, there is an even greater comeback.
"It's amazing," he said in a hospital interview Tuesday, referring to his transplant recovery time, as his nurse, Kate, nods her head fervently in agreement. "And I've been dead three or four times."
Each time, he said, God has given him another reason to live.
"When I was younger, a guy stabbed me at my house. I was later in a devastating car accident that severely damaged my sciatic nerve. And when I was getting this heart," he said, patting his chest under a hospital gown, "I flatlined several times."
Even before an organ donor had been secured, Earl had momentarily given up hope.
He was placed on the donor list in the spring of 2016 and was at VCU Medical Center awaiting a donor for 171 days. As the year progressed, Earl said he was becoming increasingly weary.
And then, on Oct. 3, Earl was dealt a devastating blow when his closest friend, Dianna Lofton, lost her battle with cancer.
"We talked every day, and they came in one day and told me she had lost her life. I was devastated."
But in true form, when Earl thought all was lost, hope prevailed.
The day after Ms. Lofton passed away, Earl received notice from his cardiologists at VCU that he had a donor.

While he does not know who his donor was, he is hopeful that he can one day meet and thank his donor's family for the ultimate gift.
It is this enigmatic narrative that allows Earl to continue to find beauty in each moment — and to create beauty for others.
The Armstrong High School Class of 1972 graduate has worked for more than 40 years as a makeup artist, first at Thalhimers and Miller & Rhoades department stores in Downtown during the 1980s and 1990s, then at the MAC counter at Hecht's and Macy's at Regency Square Mall well into the new millennium.
"Well, you know I love cosmetics," Earl said, laughing as he flipped his flowing black and gray wig. "I could never really paint, like on canvas. But the skin is more pliable. And I like the beauty of it."
During an era when women of color had a tough time finding a proper makeup foundation to match brown hues, Earl could mix — and actually match.
For untold scores of women in Richmond and Petersburg searching for a professional look for the workplace or a glam look for a party or formal affair, Earl was the expert they turned to in 1980s and beyond to highlight their eyes and cheekbones and to add a stylish rouge to their lips.
Even young women, before their prom or debutante ball or other major functions that required a "full-beat" or full face of makeup, paid Earl a visit at the MAC counter.
"He did my daughter's makeup for her wedding," said a nurse in passing during the interview.

Earl can accent no other canvas better than his own. The lifelong Church Hill resident is known in both the LGBTQ and African-American communities — and the spaces where they intersect — as the quintessential drag queen.
"The first word that comes to mind when discussing such an icon and voice of Richmond's LGBTQ community member as Earl Fleming, better known as 'Christmas Snow' is 'diva,' " said Beth Marschak, board chair at Diversity Richmond, Richmond's cornerstone LGBTQ rights organization, at their annual awards ceremony on Nov. 29.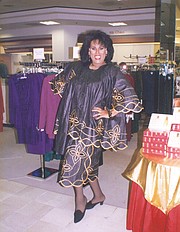 This year, Earl won the "We Stand on Your Shoulders Award" for Lifetime Achievement from Diversity Richmond although he could not leave VCU Medical Center to accept it.
"Long before RuPaul, in Richmond, as across the nation, the drag community entertained us. But, more importantly, they have often been at the forefront of building community," Ms. Marschak continued.
Like many in the community, Earl as "Christmas Snow," began her performances with the goal of doing just that — performing.
"I wanted to be Diana Ross," Earl said matter-of-factly.
Earl got to see "Miss Diana Ross" — as he calls the real-life celebrity — for the first time in 1965 with The Supremes, he said. "My granddaddy used to take me to all of the shows," he said, referring to the 1960s Motown-era musical shows.
Earl laughingly suggested that his family's temporary residence at the Eggleston Hotel in Jackson Ward in its heyday might have inspired him.
His grandparents, who adopted him at age 1, raised Earl.
"I wanted to sing and then do fundraisers to raise money for people who may need help for whatever they may have needed it for," he said.
But as time and circumstance would have it, Christmas Snow, Earl's alter ego, found herself thrust into a space of advocacy and activism at the height of the HIV/AIDS epidemic.
"When I was able to see Christmas Snow perform, it was always after 2 a.m. at 2001 East Franklin Street," said Rodney Lofton, the nephew of Ms. Lofton and the program coordinator for Diversity Richmond. He was referring to "Scandals," the former Shockoe Bottom gay bar that was hugely popular in the 1980s and 1990s with its massive dance floor and drag shows.
At the time, Mr. Lofton was too young to party at Scandals earlier in the night when alcohol was served, but not too young to remember the constant reminder of death during a time when there was no cure or treatment for HIV/AIDS.
"The voices of gay men of color who were dying were resounding," Mr. Lofton said. "We would see one day a young, healthy face and then the next day, and next month, and next year, they were gone," he said.
That also was the reality for Earl.
"When I first did my first drag show, I was 30, and HIV/AIDS was really rampant during that time," said Earl.

"But we were family, and they nominated me to be the mother," he said, explaining the inception of the "House of Snow."
"Houses" in the drag community generally refer to groups of close-knit, typically same-sex individuals who, in many ways, function like a biological family and assume unique roles in the "house" under the guidance of a house "mother." Houses might even compete in drag competitions.
For gay black men and trans women, who often face homelessness and social exclusion from family and larger society, these "houses" are like home, said Patricia R. Corbett, playwright of "Fall of the House of Snow," a work that fictionalized the lives of Christmas Snow and her "snowflakes" during the height of the HIV/AIDS epidemic.
"Addressing the black church, internalized homophobia, family dynamics" and the factors that facilitated the necessity of the House of Snow is what makes Earl amazing, said Ms. Corbett, who studied its inception for years before writing the short story and subsequent play.

"They became this family because often they weren't getting what they wanted and needed from their biological families," including a sense of security, self-worth and love, she said.
"So I'm 'Christmas Snow' and I had seven little 'snows' or 'snowflakes,' " said Earl.
The House of Snow is the last remaining black house in Virginia, he said.
Other popular houses in Richmond at the time were "The Monroes" and "The Cocaines," and they were all white, said Victoria Snow, House of Snow's current house mother and Earl's successor.
Of Christmas Snow's seven little snowflakes, all of whom were black gay men in their 20s, "most of them are deceased," Earl said teary-eyed.
At the height of the HIV/AIDS epidemic in the United States in the late 1980s and early 1990s, there were more than 300,000 AIDS-related deaths per year. African-Americans and gay men were the most likely to be infected, and the most likely to die, according to the Centers for Disease Control and Prevention. The average age of the dead: 31.
Of the seven original House of Snow snowflakes, only two remain — Victoria Snow and Zaviara Snow, who will be coming to Richmond from Chicago for Christmas Eve, Earl said.
"She lost her real mother recently, and she still calls me mom. So I try and talk to her once a week," said Earl.
Victoria Snow met Earl after winning the "Ms. Scandals" title in 1986.
"Earl was one of the featured entertainers, and one day he asked me did I have a drag mother," said Ms. Snow.
"I was just a transgender woman going to school in New York and I had no concept of any of that. So she asked me to be her daughter. And ever since then, we've been like a duo," she said, reflecting on her decades-long relationship with Earl, who she said has been like a mother to her in all ways.

"I was always amazed at this person who could get up on stage and blow people away with her real voice. I guess we amaze each other."
While many drag queens are known for their seemingly effortless lip-syncing, Earl could actually sing like Diana Ross.
Mr. Lofton and Ms. Corbett echoed the same sentiments.
"What stood out for me from any house was that Christmas Snow performed live, which is pretty impressive, because most drag is lip-syncing," Ms. Corbett said.
"If you've ever heard Earl sing, you were happy at the club because you knew you were going to get a live vocalist," Mr. Lofton recalled. "There was The Pointer Sisters' 'Dare Me' and The Mary Jane Girls 'In My House.' With Earl, you were going to get the real thing."
Seeing Earl on stage "would always remind us about why we were there," Mr. Lofton continued, noting Earl's unique ability to simultaneously entertain and advocate.
"He certainly wasn't preachy, but his performances were always for the good of others," Mr. Lofton said.

"If more was done on black LBGTQ history and our contributions to the black community, particularly in Richmond, and what those contributions have been throughout the years, Earl would be at the helm of it all," Ms. Corbett says reflectively.
Mr. Lofton agrees.
"Of course, we hope to see Christmas Snow make a return to the stage once this is all over with," he said, referring to Earl's recovery. "But we would love to hear the voices of LGBTQ communities of color — those earliest stories and memories so we can remember."

At this point in the battle for HIV/AIDS eradication and full civil rights for LGBTQ people, muting history could be deadly.

"There are approximately 10 individuals newly diagnosed each month with HIV and at least 10 individuals who are being lost to care each month just in Richmond," said Mr. Lofton.

"And the majority of those new cases are young gay men of color."
Diversity Richmond is working with the History Department and American Studies Program at the College of William & Mary to conduct research and preserve Virginia's LGBTQ history.
Understanding history, Ms. Corbett believes, begins with community figures like Earl.
"He's a star in Richmond who has not received enough accolades because of her kindness and compassion and caring," she said. Even offering such praise and recognition "would still not do his legacy justice," she said.
"Earl understood that when we entertain, we educate," she said. "And there can be a way we send messages to our young people and do it in a way that can be receptive."
In true form, Earl, who says he has no new alter egos on the horizon, is preparing for his next performance, although he just received a new heart and kidney three weeks ago.
"I'm going to prepare for next Christmas' show. I've started getting hairpieces and different pieces that I'll need to make it a success to help to raise money for the AIDS community — and the heart community, too, now," he said smiling.
Earl has lost more than 150 pounds since his 2008 diagnosis with heart failure. As he posed for the camera at VCU Medical Center, nurses passed by showering him with compliments. His face illuminated like a Christmas bulb.
He spoke with hope about the future, offering an idea for a resurrection performance by Christmas Snow.
"Maybe I'll do something for Valentine's Day, some kind of sweetheart dance or something like 'New beginnings with a sweet heart.' "