Simone Biles, LeBron James named AP Athletes of the Year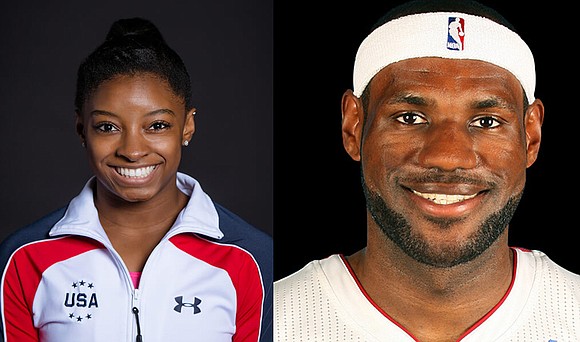 She won a record-tying four gold medals to go along with a bronze during the 2016 Summer Olympics in Rio de Janeiro.
He ended 52 years of sports heartache by bringing Cleveland an NBA championship in June.
Simone Biles and LeBron James have been named the Associated Press 2016 Female and Male Athletes of the Year.
In a vote by U.S. editors and news directors announced Monday, the 19-year-old Biles received 31 votes out of a possible 59 votes. U.S. Olympic swimmer Katie Ledecky, who won four golds and a silver in Rio, finished second with 20 votes. Serena Williams, who won Wimbledon for the seventh time to tie Steffi Graf's record of 22 Grand Slam titles, and three-time AP women's NCAA basketball Player of the Year Breanna Stewart tied for third with four votes each.
Biles became the fifth gymnast to win the honor, joining Olga Korbut in 1972, Nadia Comaneci in 1976, Mary Lou Retton in 1984 and Gabby Douglas in 2012. It's company Biles joined while completing a run of dominance that included three straight all-around World Championships, an unprecedented run at the top in a sport where peaks are often measured in months, not years.
The teenager from Spring, Texas, hardly seemed burdened by the outsized expectations. If anything, she embraced them. She opted out of a verbal commitment to compete collegiately at UCLA to turn professional so she could cash in on the lucrative opportunities afforded an Olympic champion, a bit of a gamble considering the window is so narrow and directly tied to success at the Olympic Games.
Yet Biles seemed immune to it. At least on the outside. Inside, there were more than a few butterflies when she stepped onto the floor during team preliminaries on Aug. 7. They vanished the moment she stepped onto the floor at Rio Olympic Arena as she and the rest of her "Final Five" teammates — Douglas, Aly Raisman, Laurie Hernandez and Madison Kocian — put on a clinic that showcased how substantial the gap between the Americans and the rest of the world has grown.
What followed was a run of brilliance: A team gold as a fitting send-off to retiring national team coordinator Martha Karolyi. Another in the all-around two days later, where her score of 62.198 bettered Raisman by more than two full points, the gymnastics equivalent of winning a football game by three touchdowns. A third gold came on vault, the first ever by an American woman at the Olympics and Biles' first in major international competition to fill the only hole in her increasingly peerless résumé.
A bronze on beam followed thanks to a messy landing on a front flip, her only major form break in Rio. No matter, she put the exclamation point on her gold rush with a gravity-escaping floor routine that ended with Biles rushing to embrace longtime coach Aimee Boorman as their long journey to this moment ended in triumph.
The ensuing four months have been a whirlwind. Biles carried the U.S. flag at the Olympic closing ceremonies, published her autobiography, took part in a post-Olympic tour with her teammates including performing in eight shows despite a fractured rib and hung out at the White House with President Obama. She remains open to giving it another shot in Tokyo in 2020. That's for later. In January she'll sit down and plot out her goals for the upcoming year. For the first time since she can remember, gymnastics won't be on the list.
"I miss training with the girls and having a good time," Biles said. "Whenever I go to the gym to visit them and I see them, I do not miss this part at all right now."
James, who has used his superstar platform to address social causes, previously won the AP Male Athlete of the Year in 2013.
The results of the vote by 59 editors from AP member newspapers and customers were announced Tuesday.
James collected 24 first-place votes, beating out a pair of Olympic legends: Michael Phelps (16) and Usain Bolt (9), the fastest men in water and on land who are not accustomed to finishing behind anyone.
Chicago Cubs third baseman Kris Bryant, the National League MVP who led his team to its first World Series title since 1908, tied for fourth with Golden State star guard Stephen Curry, last year's winner. Cristiano Ronaldo, Von Miller and Andy Murray also received votes.
James joins Michael Jordan as the only NBA players to win twice. Jordan won it three straight years from 1991 to 1993.
The June victory with the Cleveland Cavaliers was James' third NBA crown, delivering on a promise he had made to a city that hadn't celebrated a major championship since 1964 and had endured many torturous sports moments since.
James, whose game shows no signs of aging as he approaches his 32nd birthday in a few days, came up short in 2015, leading an injury-depleted Cleveland team to the finals where they lost to the Golden State Warriors. And although James posted the best statistical series of any player in history, his critics were quick to point out his 2-4 record in the finals compared to Jordan's 6-0.
The Cavs got a rematch in June with the record-setting, 73-win Warriors. Led by Curry, the league's unanimous MVP choice, Golden State was being talked about as potentially the best team ever, an argument that gained steam when it took a 3-1 lead.
James, though, wasn't going to be denied again. He scored 41 points in Games 5 and 6 and posted a triple-double in an epic Game 7 that will be remembered for his chase-down block of Andre Iguodala in the closing minutes — a defensive gem that stands as the signature play of his magnificent career.
After the final horn, James collapsed on the floor and when asked moments later about his emotions, the Ohio native who proudly says he's "just a kid from Akron," screamed at the TV camera, "Cleveland, this is for you!"
"At that moment," James said, "I felt fulfilled. To know the history of our sports here and how heartbreaking at times it was for all those years that our fans had to go through, and the circumstances that we came back from, it was so fulfilling."
James' journey to his greatest triumph coincided with the passing of another great — the greatest of all — as Muhammad Ali died on June 4. During the playoffs, James watched tapes of Ali's fights for motivation. It was in the spirit of the boxing legend and global ambassador that James stood on stage with close friends Dwyane Wade, Chris Paul and Carmelo Anthony at the ESPYs in July to decry violence against unarmed black men and encourage fellow athletes to do more to support local police and improve communities.
James later donated $2.5 million for a Smithsonian exhibit honoring Ali, and he's producing a documentary on the champ.
"He's definitely a person I'm inspired to be like, to have a social conscience about things," James said. "What I always saw in Ali was that he was always educated about everything he was speaking about. He was never just talking to be talking. There was a method to the madness.
"Ali definitely showed me the way."