With postponement of Olympics, Biles fighting time, age to win gold again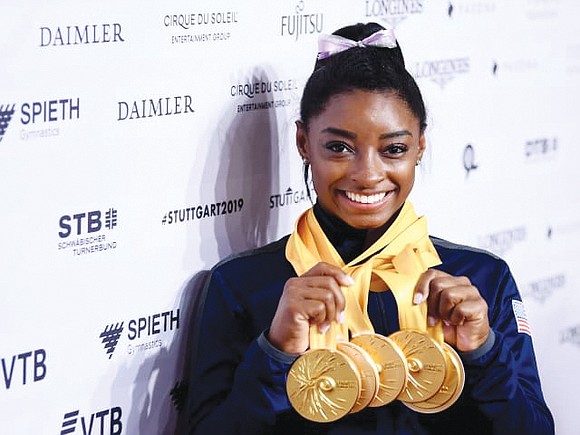 Simone Biles was an overwhelming favorite to repeat as All-Around Artistic Gymnastic champion at the 2020 Summer Olympics in Tokyo.
Then, because of the coronavirus, the 2020 Olympics were postponed to 2021, when Biles will be 24 years old.
Will the extra year make a difference in a sport ruled globally by teenagers?
While the 4-foot-8 native Texan tornado still looks young enough to get into the movies at a youth discounted price, she is almost elderly by women's gymnastics standards.
Consider: The last 11 Olympic All-Around gold medalists have an average age of 16.7 years.
The youngest to ever claim the top prize was 14-year-old Nadia Comaneci of Romania in 1976. Tatiana Gutsu of the Ukraine was champion in 1992 at 15.
American Gabby Douglas won in 2012 at a mere 16 years, 215 days.
Biles was 19, already older than most, when she dazzled the world in striking Olympic gold in just about every gymnastic category at 2016 Olympics in Rio de Janeiro.
The current group of top U.S. gymnasts are Jade Carey, 19; Morgan Hurd and Riley McCusker, both 18; Sunisa Lee, 17; and Kayla DiCello, 16.
Another possibility might be Laurie Hernandez, 19, who was part of the U.S. overall team that won the championship in Rio.
Biles could be their big sister.
After dominating in Rio, Biles took off the better part of two years from the daily training grind. Biles is spectacular; she is also human.
She performed with the Houston Texans' cheerleaders, wrote a book, "Courage to Soar: A Body in Motion, A Life in Balance," and competed on "Dancing with the Stars."
During her post-Rio recovery, here's what she told the media in March 2019:
"I feel like I've gone through a lot, and I'm just falling apart – not that you can actually tell, but I really feel it a lot of the time.
"I'm in pain most of the time, but it kind of feels right because if you are not in pain, it is almost like you could be doing more."
That said, she went out and proved beyond any doubt she is the GOAT – the Greatest Of All Time – in her sport.
Shaking off any rust, she returned better than ever at the World Games in Stuttgart, Germany, in October 2019. Performing moves never before seen, she won individual gold for All-Around, vault, balance beam and floor, while also leading the U.S. team to the team title.
Upon learning of the year's postponement of the Olympics, here's what Biles told the media in an April 1 interview:
"At first I didn't know what to think. I just sat there and cried. But ultimately it was the right decision."
Meanwhile, Biles is social distancing while working out at home as she receives instruction via FaceTime from her coaches at Bannon's Gymnastix in Houston.
"I'm walking the dog a lot more, just trying to stay healthy," she said.
She has every intention of searching for gold again in Tokyo in 2021, but now there is an extra barrier to leap over.
"Physically, I have no doubt my coaches will help me get back in shape," she said during an appearance on NBC's "Today." "But mentally, going another year, I think that's what's going to take a toll on me and all of us."
No woman has repeated as Olympic All-Around champ since Vera Caslavska of Czechoslovakia in 1964 and 1968. Gymnastics has become a far more demanding sport in the decades that followed.
Biles for years has displayed her jaw-dropping agility.
But at 24, an old-timer in a sport with a short shelf life, she'll call on one more asset: Call it "ageility."