Monte Irvin, who helped integrate major league baseball, dies at 96
Fred Jeter | 1/15/2016, 7:18 a.m.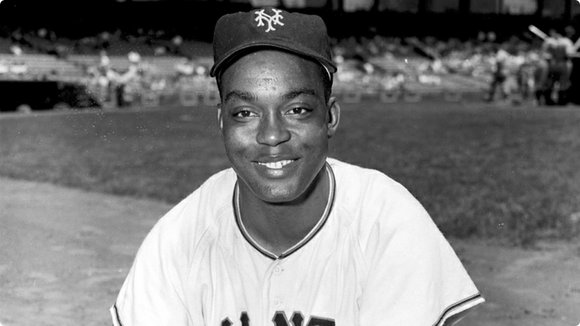 Monte Irvin, a trailblazing baseball star and the oldest surviving Negro Leagues player, died Tuesday, Jan. 12, 2016, of natural causes at a retirement community in Houston. He was 96.
Had it not been for a contractual issue with the Negro Leagues' Newark Eagles in New Jersey, Mr. Irvin — and not Jackie Robinson — might have been the first African-American to play in the modern big leagues.
Eagles owner Effa Manley would not allow Brooklyn Dodgers owner Branch Rickey to acquire Mr. Irvin without financial compensation.
Instead, Mr. Rickey signed Mr. Robinson in 1945 without having to compensate his Negro Leagues squad, the Kansas City Monarchs.
Mr. Irvin, who grew up in Orange, N.J., had been the choice of the Negro Leagues executives to be the first African-American to play Major League Baseball. He had played with the Eagles from 1938 to 1948, with several seasons interrupted by his service in World War II. According to the National Baseball Hall of Fame and Museum, Mr. Irvin's Army unit was deployed to the secondary line during the Battle of the Bulge.
He eventually was signed by the New York Giants at age 30 on July 8, 1949. He and Hank Thompson became the Giants' first African-American players on the same day.
While he played some initially with the Giants' minor league team, Mr. Irvin played his first full season with the major league team in 1951. That season, Mr. Irvin, Mr. Thompson and a young Willie Mays formed the first all-black outfield in modern major leagues. He helped the Giants win the 1951 National League pennant that year in beating the Brooklyn Dodgers.
In eight seasons with the Giants and later his final season in 1956 with the Chicago Cubs, Mr. Irvin hit .293 with 99 homers and 443 runs batted in, including a National League leading 121 runs batted in 1951.
His No. 20 jersey has been retired by the Giants.
Mr. Irvin played for two World Series champions — the Negro Leagues Eagles in 1946 and the New York Giants in 1954.
He is a member of the Major League and Negro Leagues Halls of Fame, as well as halls of fame in Mexico, Puerto Rico and Cuba. Before baseball's color line was broken, African-American players often competed in Mexico and the Caribbean to supplement their incomes during winter.
In 1968, Mr. Irvin became the first African-American executive in major league baseball when he was named assistant commissioner under Bowie Kuhn. He served in that capacity until 1984.
In 2010, Mr. Irvin threw out the first pitch of the San Francisco Giants versus the Texas Rangers World Series game. The New York Giants relocated in San Francisco in 1958. San Francisco is the big league affiliate of the Richmond Flying Squirrels.
He is survived by two daughters, Pamela Irvin Fields and Patricia Irvin Gordon. His wife, Dorinda Irvin, died in 2008.