Richmond's Kay Coles James leading Trump transition
11/19/2016, 10:29 a.m.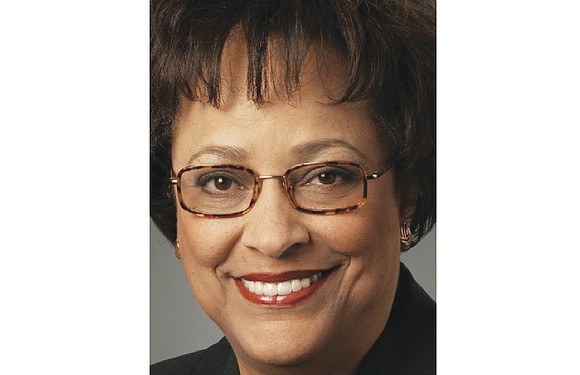 By Lauren Northington
As a black female Republican, Kay Coles James sits in contrast to the images of white men who often are characterized as the base of the political right.
Mrs. James, a Richmond native who is unapologetically conservative and quite adroit at maneuvering and serving in high Republican circles, is now a part of President-elect Donald Trump's transition team.
She has been tapped to lead the transition efforts at the federal Office of Personnel Management, where she was director under former GOP President George W. Bush.
Mrs. James and former U.S. Attorney General Edwin "Ed" Meese under President Ronald Reagan will head the management and budget agency transition work group.
This is not her first time chairing a Republican transition team.
The Hampton University graduate led Virginia Gov. Bob McDonnell's transition team in 2010.
She also served as state secretary of health and human resources under former Gov. George Allen, and later was the dean of the Robertson School of Government at Regent University, a private, Christian school in Virginia Beach.
She is the founder and president of the Gloucester Institute, a leadership training program for African-American young adults based in Richmond and Gloucester County that seeks to "cultivate a society of 'solutionists' in minority communities," according to its website.
Reached Wednesday by the Free Press, Mrs. James said she did not want to comment at this time.
She spent her early childhood in Richmond's public housing while integrating the city's public schools.
She has served in various capacities of several Republican administrations during her 30-year public service career.
President George W. Bush appointed her director of the U.S. Office of Personnel Management in 2001. During the fall of that same year, she authored a book, "What I Wish I'd Known Before I Got Married," which offered advice on children, finances, intimacy and faith.
"Everywhere I look, I see problems that cry out to be solved. African-American poverty should be going down — instead, it's rising. Our children should be thriving — instead, millions of them live in broken homes. Our streets should be peaceful — instead, violence continues to take a devastating toll. Our schools should be nurturing excellence — instead, far too many of them are factories of failure," Mrs. James wrote in a commentary piece published by the conservative Heritage Foundation's news organization in August. It was in response to Mr. Trump urging black voters to support him.
"It's not OK that so many consultants and pundits would rather play politics than help save my people," she went on to write. "Fortunately, many others genuinely care about economic advancement and social justice for all Americans. … Some now call the Republican Party home because they recognize conservative policies offer the common sense solutions my community needs. Others try to encourage the Democratic Party to adopt more effective conservative policy solutions."