Winnie Mandela turns 80
9/30/2016, 7:04 p.m.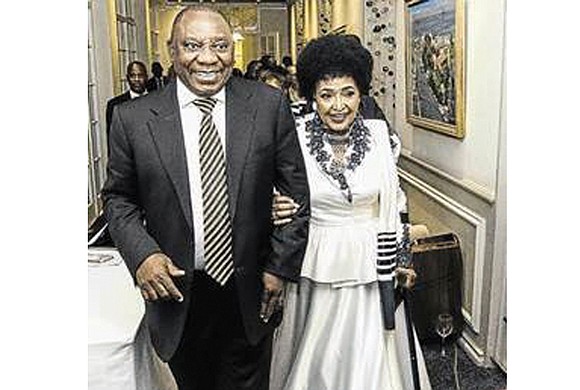 Trice Edney News Wire
Global Information Network
Winnie Madikizela-Mandela reached octogenarian status this month and marked it at a celebratory party surrounded by top officials, musicians and family members.
She shared her special day with well-wishers at the renowned Belmond Mount Nelson Hotel in Cape Town on Sept. 21.
Among the guests were Bongi Ngema-Zuma, wife of South Africa President Jacob Zuma; Mrs. Madikizela-Madela's daughter, Zindzi Mandela; Julius Malema of the Economic Freedom Fighters party; and Cape Town Mayor Patricia de Lille, among others.
Graceful and dignified in a white and blue gown, the anti-apartheid activist made her entrance on the arm of Deputy President Cyril Ramaphosa' who later addressed the guests on the attributes of the former wife of the late statesman Nelson Mandela.
"Much as Julius Malema and I disagree on many things, we agree on Mam'u Winnie's (Mrs. Mandela's) everlasting beauty'" he said, to cheers and applause from the attendees.
"You are indeed the mother of the nation," he said, directing his comment to her. "But you also have another attribute, which is your enduring vitality."
Mrs. Madikizela-Mandela was born in the village of eMbongweni on Sept. 26' 1936. Both her parents were teachers and she followed their path, studying social work at the Jan Hofmeyer School. Her meeting with Nelson Mandela took place in 1957 at age 22. They were married in 1958 and were a couple until 1992. 
"Winnie Madikizela-Mandela personifies everything about the African saying, 'Woman, you are a rock,' " Mr. Ramaphosa said. Not like a simple rock but like a diamond, he said, built to last a lifetime.
Mrs. Madikizela-Mandela was a symbol of strength for the many women who lost their husbands to the liberation struggle.
"Enduring the worst in the times of oppression, she ensured that the people would not lose heart … Regardless of her own pain, she ensured that the children and families of liberation were clothed and fed," Mr. Ramaphosa said.
Then he quoted the late American poet Maya Angelou, saying, "And, at 80, she still rises."
Following the deputy president, daughter Zindzi Mandela shared some of the personal qualities and characteristics of her mother that many did not know.
"My mother is a very keen gardener. I, for example, was two hours late for my wedding because my mother had to water the garden'" Ms. Mandela said. "But that is my mother' she loves to be surrounded by beautiful things and she loves to make beautiful things grow. It's just her nature."
The dinner proceedings began after 9 p.m. with a light starter of asparagus' followed by fish or meat and citrus fruits for dessert.
Later, Mrs. Madikizela-Mandela took to the podium and thanked the guests. Recovering from back surgeries in March and April' she told the room that when she gets well' she plans to lead a campaign for the widows and orphans of the "Marikana massacre."
"Amandla (power)'" she called out' which was followed by an expressive "Awethu! (to us!)."