VCU offers chance for jail inmates to 'write way out'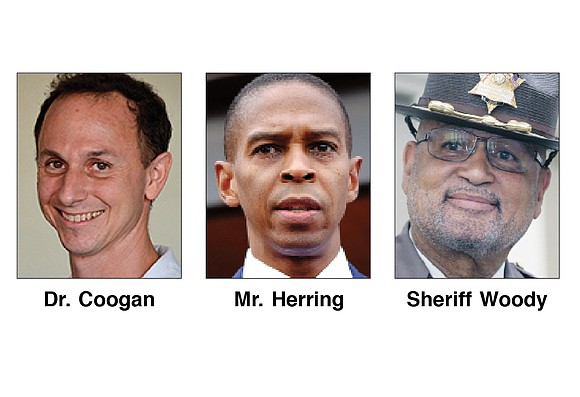 Instead of spending time behind bars, a few inmates soon could serve their sentence in a college classroom.
That's the idea behind a new program that Richmond Commonwealth's Attorney Michael N. Herring and Virginia Commonwealth University are creating. It is dubbed "Writing Your Way Out."
The program is to launch Tuesday, Jan. 16, with the start of VCU's second semester.
On that day, up to 10 people convicted of nonviolent offenses and facing jail time are to start an English course at VCU alongside 10 college students.
The course: "English 366: Writing and Social Change."
This is the same service-learning course that has been taught since 2011 at the Richmond Justice Center as part of the Open Minds program. Dr. David Coogan, a VCU associate professor of English, founded the program with support from Richmond Sheriff C.T. Woody Jr.
In Open Minds, Dr. Coogan teaches a course at the jail that includes residents and VCU students. The students come together to read and write about literature, share stories of their lives, support one another and contend with the diversity of experiences tied to race, class, generation, gender, sexual orientation, addiction and the criminal justice system, Dr. Coogan said.
Essentially, Dr. Coogan is bringing the course to the VCU campus. He has the support of the university and the city's prosecutor.
The goal of the program, according to Dr. Coogan: To help offenders "figure out a way to live a better life, a life that keeps them out of the criminal justice system, a life in which they're proud of what they're doing, where they've discovered a new life purpose or just kind of figured out those self-sabotaging behaviors that create a lot of pain in their own life and in the lives of others."
He also stated that the course would enable VCU students to see they have more in common with those in jail than they might realize.
"Though some are incarcerated and some are free, we're all struggling with something. It could be a history of trauma or poverty," Dr. Coogan stated.
People taking the course come to learn "how to respect one another in their very diverse struggles," he said.
Each of the offenders will be mentored in the class by two coaches, Dean Turner and Kelvin Belton, who worked with Dr. Coogan while they were incarcerated at the Richmond City Jail in 2006.
Mr. Turner and Mr. Belton later co-authored a book with Dr. Coogan on the experience, "Writing Our Way Out: Memoirs from Jail," that was published in 2015.
Mr. Herring supports the professor's approach and describes him as creating a model that "illuminates the complexity of an offender's behavior, making it harder to rush to judgment. For participants, it offers something that traditional prosecution trajectories do not — introspection and hope."
To get into the program, he stated, the offenders must be able to read and write and want to break their cycle of crime.
Participants cannot be incarcerated for a sex offense, a violent felony or burglary.
Selected offenders must follow the program's code of conduct or face removal.
VCU Police Chief John Venuti stated that he and his department support "Writing Your Way Out" and expect the program to be a benefit.
"I have found that people often learn more from being given a second chance rather than an actual consequence," Chief Venuti said. "In the appropriate situations, this program allows select offenders to get that second chance."
The three-credit course will be part of Dr. Coogan's regular teaching load, with the VCU students taking the class for credit and the offenders participating as part of a plea agreement, according to VCU.
Dr. Montserrat Fuentes, dean of the VCU College of Humanities and Science of which the English Department is a part, said that "as a college, we are committed to making a difference in the lives of our community members.
"This program is a good fit. It promotes reading, writing and literature as a means to reduce recidivism while offering a unique experience for our students," she said.
Dr. Coogan said half of the 10 offenders who will participate in the class have been selected. He is working with a judge, the prosecutor and the public defender's office to find others interested.
"We're working with the public defender's office and a judge so they're all aware of the program," Dr. Coogan said. "Collaboratively among these three offices — the judge, the public defender and the prosecutor — everyone is thinking about who would be best positioned to take advantage of this opportunity, who really wants to change, as opposed to, 'You're being sentenced to VCU.' "