Virginia elections commissioner responds to voter suppression claims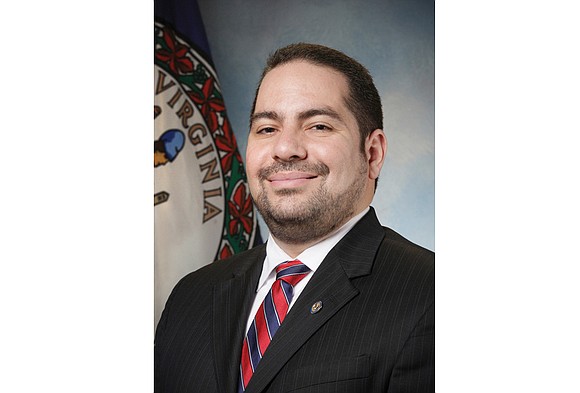 The commissioner of the Virginia Department of Elections agrees there is plenty of reason to criticize Crosscheck, an interstate data system that allows participating states to ensure that voters do not have duplicate registrations to vote in other states.

But in response to a commentary published in the Free Press Dec. 14-16 edition calling on Gov. Terry McAuliffe to dump Crosscheck, Edgardo Cortés defended Virginia's efforts to use the data carefully and cautiously.
"Last year, we received about 330,000 records through Crosscheck indicating duplicate registrations," he said. "But only about 10 percent turned out to be valid after going through the confirmation process."
The authors of the commentary, Richmond radio talk show host Gary Flowers, who serves on the National Commission for Voter Justice, and freelance journalist Greg Palast, cited a Rolling Stone magazine report indicating that 41,637 voters were removed from voter rolls in 2013 based on faulty Crosscheck data.
Mr. Cortés, who became commissioner in 2014, said the criticism ignores the checks that have been put in place since then to ensure that voters who are identified via Crosscheck as having a duplicate registration actually have left Virginia.

While some states treat Crosscheck data like gospel, Virginia does not, Mr. Cortés said.
"The data from Crosscheck requires significant handling to determine what data is usable and what data is not usable," he said in a Free Press interview this week.

"Crosscheck data is prone to false positives since the initial matching is only conducted using first name, last name and date of birth," he said.
He said voters who are affected are not automatically purged from Virginia's rolls as the two authors suggested.
He said once a person is flagged as potentially registered in another state, his department mails the person a letter seeking confirmation. If there is no response, the individual is moved from active to inactive status.
An inactive voter remains on the state's rolls through two federal elections and is purged only if he or she did not show any voter activity during that period.
"We follow the National Voter Registration Act and the Code of Virginia," Mr. Cortés said.
He said Virginia participates in Crosscheck because the state does not have to pay a fee to match its data and because at least 27 states use the system to match data. He said those states check at least 110 million records a year to help avoid duplication.
However, Crosscheck is just one tool.
He said Virginia and its local voter registrars, who are key figures in ensuring the state's database of registered voters is accurate and reliable, rely more heavily on two other electronic databases — the National Change of Address list maintained by the U.S. Postal Service and the Electronic Registration Information Center created by the Pew Charitable Trust.
The National Change of Address list, or NCoA, is the main source that election officials depend on, Mr. Cortés said. The U.S. Postal Service provides the list to state election agencies.
The NCoA list is based on information people who are moving provide to the postal service to ensure they get their mail at their new address.
A report from Mr. Cortés' department shows that, in 2014, 265,990 people who were registered to vote in Virginia were mailed address confirmation notices based on information from the NCoA. Of that, 72 percent, or 192,451 people, were moved from active to inactive status for failing to respond or update their address information.
That's more than four times the number of Virginia voters impacted by Crosscheck in 2013.
Virginia also matches its data with at least 10 other states and the District of Columbia through the Electronic Registration Information Center, or ERIC.
Mr. Cortés agrees with Mr. Flowers and Mr. Palast that ERIC "provides much more sophisticated data," but he also noted that most of the states participating in ERIC do not participate in Crosscheck.
He said the state and local registrars also use other resources to maintain the registration list.
For example, Virginia State Police provides a list of people convicted of felonies that bar them from voting to state officials and local voter registrars so their names can be removed from the voter registration list.
State vital records and Social Security Administration information on deaths also is matched with voter registration records, Mr. Cortés noted, so the names of people who have died can be removed.
Mr. Cortés said he is working currently with the state Department of Motor Vehicles to ensure his department receives the list of people who have surrendered Virginia driver's licenses because they have obtained a new license in another state.
The department also secures government information on immigrants to ensure that non-citizens who submit a voter registration card are removed from the state's rolls.

Courts also provide information to the department about people adjudicated as mentally incapacitated.
Mr. Cortés supports the use of electronic records to provide an efficient method of maintaining voter records. He chairs the ERIC board and the U.S. Election Assistance Commission Standards Board, which assists the independent, bipartisan commission with carrying out its mandates under federal law.