Clarence L. Townes Jr., longtime business, civic leader, dies at 88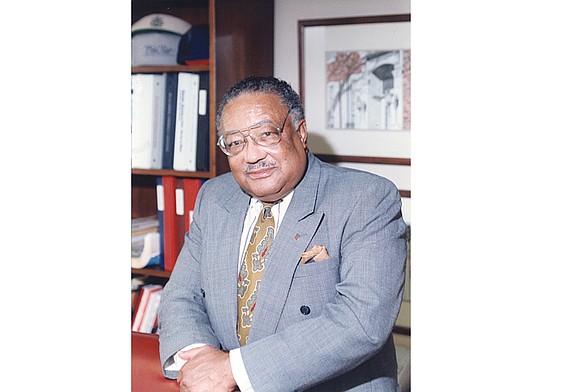 Clarence Lee Townes Jr. left his fingerprints on Richmond over the course of six decades of involvement in civic affairs.
A bulldog of a man, with a gruff voice and a penchant for straight talk, he was a key player in creating landmarks that people take for granted — from the Greater Richmond Convention Center and Marriott Hotel to the Canal Walk by the riverfront.
He packed his life with community involvement, ranging from the Richmond School Board to banking and business as part of his effort to boost economic and political opportunities for African-Americans and to overcome racial divisions.
Among his most significant contributions to the city was his role in helping to found and lead Richmond Renaissance, now Venture Richmond, as a way to bring a government with an African-American majority and the largely white business community together to push Downtown revitalization.
Those who worked with Mr. Townes called him instrumental in making Richmond Renaissance an engine of Downtown development, but more importantly in building trust between captains of industry and Richmond City Council.
He also was successful in business. He founded and ran one of Richmond's first African-American-owned charter bus companies, led the development of one of the first new apartment complexes in Church Hill and was among the early investors who enabled the late Raymond H. Boone to launch the Richmond Free Press in 1992.
For many, he was the man to see to get things done in the city or even run for office.
Mr. Townes also played a role in boosting African-American influence on national policies. During the eight years he spent in Washington in the 1960s and early 1970s, he worked with Howard University to launch one the first think tanks focusing on African-American issues, the independent Joint Center for Political and Economic Studies, which is still going strong.

But his heart was always in Richmond, said his wife of 65 years, Grace Elizabeth Harris Townes, a retired Richmond schoolteacher.
"He loved Richmond. Whenever he met someone who just moved to the city, he would ask them, 'What brings you to paradise?' And he meant it."
His role in and contributions to Richmond ended Wednesday, Jan. 11, 2017, when he died at a Richmond hospital after battling health issues. He was 88.
Final tributes will be paid to the Richmond native at noon Saturday, Jan. 21, his birthday, at Second Baptist Church, 1400 Idlewood Ave., where he was a longtime member and trustee. The pastor, Dr. James Harris, will officiate.
A Phi Beta Sigma Fraternity memorial service will be held 6 p.m. Friday, Jan. 20, at Scott's Funeral Home, 115 E. Brookland Park Blvd., with the family receiving friends from 6:30 to 7:30 p.m.
Born in 1928 on the eve of the Great Depression in segregated Richmond, Mr. Townes was the son of a founder and vice president of the former Virginia Mutual Benefit Life Insurance Co., one of two African-American-owned insurance firms in Richmond.
After graduating from Armstrong High School and Virginia Union University, Mr. Townes served as an Army lieutenant during the Korean War and then returned to Richmond to work in the insurance business with his father.
He ended up breaking away and beginning his rise to a prominent community role through his involvement with the Republican Party during an era when many African-Americans were embracing the Democratic Party.
By 1964, he had become the first African-American in modern times to be a Virginia delegate to the GOP national convention. A year later, he ran for a Richmond area seat in the General Assembly. Though badly drubbed, he gained substantial attention running for office as a Republican in the still heavily Democratic South. He later wrote that "the great thing to come out of this (election) was to focus the attention of both parties on legitimately seeking the Negro vote" in Virginia.
In 1965, he helped organize and served as treasurer of the National Negro Republican Assembly, quickly attracting party attention.
Within a year, he was tapped to be an assistant to the chairman of the Republican National Committee and then was assigned to direct the party's outreach to African-Americans and other minorities.
Four years later, he started the nonpartisan Joint Center for Political and Economic Studies and served as director of governmental affairs, working with the growing number of emerging African-American leaders to ensure they learned the business of government.
Among them was Richmond Councilman and future Mayor Henry L. Marsh III, who credits Mr. Townes with connecting him with groups like the National League of Cities and the National Black Caucus of Local Elected Officials.
Mr. Marsh said that despite Mr. Townes' Republican leanings, he provided even-handed treatment to all comers, no matter their party.
Mr. Townes' association with the GOP waned as conservatives gained more control. "He would always say, 'I didn't leave the party, the party left me,' " Mrs. Townes said.
Along with his family, Mr. Townes still had business interests in Richmond. That included helping to organize and lead the Jefferson Townhouse Corp. to create a new apartment complex near Mosby Court, creating an early spark of interest in the neglected East End.
He also was named in 1970 to the board of the bank that Richmond great Maggie L. Walker founded, Consolidated Bank & Trust, and was among the members in 2005 who voted to sell the bank to another institution.
After commuting to Washington for eight years, he eagerly returned to Richmond in 1974 to help found and take on the management of Metropolitan Coach Co., a charter bus company. He persevered through business disappointments, lawsuits and an investigation of the company to create a successful business.
Meanwhile, he watched as the city was embroiled in a lengthy fight over African-American control of the government. The battle ultimately led in 1977 to the election of the first African-American majority on Richmond City Council and the council's selection of Mr. Marsh as Richmond's first African-American mayor.
Concerned about a sagging Downtown and business hostility to African-American control of City Hall, Mr. Marsh tapped Mr. Townes to chair a solution — a biracial, government-business group that was dubbed Richmond Renaissance to express hope in Richmond's revitalization.
Mr. Townes would go on to become deputy director of the booster group that played a key role in developing the former 6th Street Marketplace Downtown mall, the Marriott and the convention center in a bid to make the city more competitive with the suburbs.
He also was part of the creation of annual events like the 2nd Street Festival.
After nine years as deputy, Mr. Townes was named executive director in 1991 and was part of the effort to get the city to redevelop the city's canals as a new way to spark development. He retired from Richmond Renaissance in 1998.
Along with his work for the group, he also accepted a council appointment in 1990 to the Richmond School Board, including two years as chairman. However, he stepped down in 1994, when the city switched to an elected board, declining to run for a seat.
In 1991, he joined others in supporting Mr. Boone's plans to start a new African-American newspaper.
His community activities included serving on the Virginia Commonwealth University Board of Visitors and on the boards of the VCU Real Estate Foundation and The Valentine, Richmond's history museum.
Along with his wife, survivors include his son, Michael S. Townes Sr. of Hampton; daughters, Lisa F. Townes of Richmond and June E. Townes of New York; a brother, Clifton D. Townes of Richmond; 10 grandchildren; and six great-grandchildren.
Mr. Townes was predeceased by his oldest son, Clarence L. Townes III.
Following the funeral, Mr. Townes is to be entombed at Forest Lawn Cemetery.
The family requests that in lieu of flowers, memorial donations be made to Virginia Union University's Division of Institutional Advancement, 1500 Lombardy St., Richmond, Va. 23220, or to the Eugene P. Trani Scholarship Fund at VCU, P.O. Box 843042, Richmond, Va. 23284-3042.