Henry L. Marsh III Elementary School
New school a reflection and symbol of namesake's life, achievements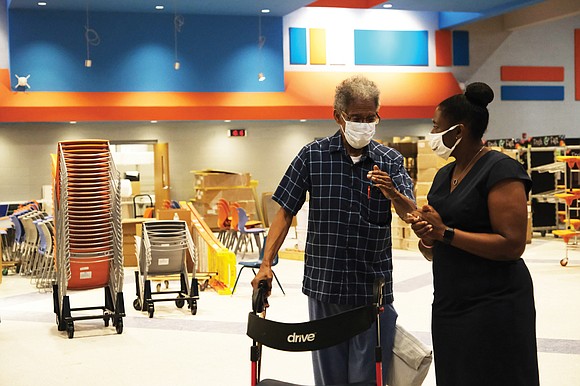 Former state Sen. Henry L. Marsh III, one of Richmond's African-American political trailblazers, was given a private tour last week of the new East End elementary school named in his honor.
The 86-year-old retired civil rights attorney, who served as Richmond's first African-American mayor from March 1977 to June 1982, attended George Mason Elementary, the old school at 813 N. 28th St. that has been replaced on the same site by the new $40 million Marsh Elementary.
He was joined on the Aug. 27 tour by his daughter, Sonya Marsh-Craft, school Principal Kimberly Cook, Richmond Schools Superintendent Jason Kamras, School Board Chair Linda Owen, board Vice Chair Cheryl Burke, Mayor Levar M. Stoney and City Council President Cynthia I. Newbille.
The walk through the new building— one of three new city schools ready for occupancy once the coronavirus is under control—was emotional for all. Mr. Marsh said having his name on the school in his old neighborhood is one of the greatest tributes he can imagine, notwithstanding the city courthouse in South Side bearing his name and that of his late brother, Harold M. Marsh Sr., who also was an attorney and substitute judge.
While students will spend the fall semester learning online because of the COVID-19 pandemic, the first thing they will see at Marsh Elementary when schools open for in-person classes will be a large mural in the lobby depicting in photos, articles and other historical artifacts, the life and achievements of Mr. Marsh, according to a plan school officials outlined during the tour.
"This is what I always wanted for our young people because they have so much potential," Sen. Marsh said touring the sparkling new facility. "This is a great feeling to tour my namesake school. This is one of the most important things we can do because, in the future, one of the children entering Marsh Elementary may become president, governor or ambassador."
Former Gov. L. Douglas Wilder, the nation's first elected African-American governor, attended George Mason Elementary. The oldest section of the school, dating to the late 1800s, was among the first schools built for African-American students in the city.
The new Marsh Elementary, a modern brick and glass structure that can accommodate 750 students, has new technology that will bring learning into the 21st century. The other two new schools are in South Side. They are Cardinal Elementary, located at 1745 Catalina Drive and replacing E.S.H. Greene Elementary, and River City Middle School, located in the 6300 block of Hull Street Road, at the site of the old Elkhardt Thompson Middle School.
Mr. Marsh played an instrumental role in the legal fight against school segregation, handling more than 50 such cases in Virginia. He also battled racial discrimination in employment and won a legal fight in 1981 that forced Virginia to adopt single- member legislative districts, which opened the door for the election of more African-Americans to the General Assembly.
From Richmond City Council and the mayor's position, Mr. Marsh was elected to the state Senate in 1991, representing the city and portions of surrounding counties until he stepped down in 2014. After his retirement, he was appointed by then-Gov. Terry McAuliffe as a commissioner on the state Alcoholic Beverage Control Board. He has since resigned from that position.
Ms. Burke, who represents the School Board's 7th District in which Marsh Elementary is located, said the new school building is a symbol and reflection of Mr. Marsh's life.
It is "an act of need as well as an act of love" and a demonstration of "love for the community, love for our children and love for the accomplishments Sen. Marsh brought to this community, this city and the nation," Ms. Burke said.
She and the others said they want Richmond students to continue to excel, while the new schools will provide them with the best 21st century learning opportunities.
"Being here with Sen. Marsh now is really one of the highlights of my entire career," said Mr. Kamras, who added that the new school did not exist, even as an idea, when he arrived in Richmond three years ago.
"This stately icon," he said in referring to Mr. Marsh, "represents the very best of what we expect of our students. He is someone who changed Richmond for the better. I can't think of a better role model for our students than Mr. Marsh."
Mayor Stoney's eyes welled up with pride and emotion during the tour with Mr. Marsh.
"All of this makes me emotional and bring tears to my eyes," Mayor Stoney said. "This building, with all of the latest technology and innovation, speaks to the legacy of Henry Marsh as well as what we (the city) can do for our children.
"We have a lot more to do for our children in different neighborhoods throughout the city," he continued. "And Henry L. Marsh Elementary is a shining example of what we can do for our children as they work toward who they want to be in the future."