Irving beats longtime Richmond sheriff in major upset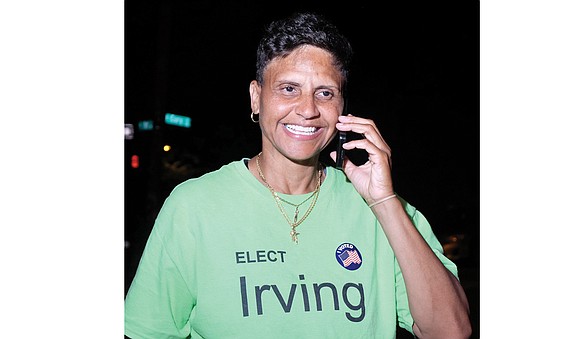 Election — By every measure, Antionette V. Irving seemed to have no shot of winning her third attempt to unseat Richmond Sheriff C.T. Woody Jr.

The popular sheriff had crushed Ms. Irving by 4-1 and 5-1 margins in her previous Democratic primary attempts to unseat him in 2009 and 2013.
For Tuesday's primary, he had raised $100,000 to fuel his campaign, or 20 times her campaign war chest. In fact, her biggest donation was the $5,000 contribution she made.
Ms. Irving, who had made history as the first woman to reach the rank of major in the Henrico Sheriff's Department a few years earlier, was undeterred.
The 52-year-old Richmond native undertook a gritty shoe-leather campaign in which she and her six faithful supporters spent the past two years knocking on thousands of doors to press her case with potential voters — the kind of effort that Sheriff Woody, after 12 years in office, no longer felt a need to undertake.
Instead, he relied heavily on mailers, endorsements from elected Democrats and on news stories about new innovations he was introducing.
Ms. Irving also teamed with a new campaign strategy team, 4VA Blue, who helped tell her story on social media, making sure she was plugged into insurgent Democratic groups eager to create change.
It was a stealth campaign that created little buzz, and seasoned political operatives completely missed what was happening.

That made it all the sweeter Tuesday night when the former public housing resident pulled off arguably one of the biggest upsets in city political history in defeating Sheriff Woody, who has held office since 2006. Ms. Irving is now in position to claim the office with a victory in the general election in November.
When the votes were counted in Tuesday's Democratic primary, Ms. Irving had won 13,586 votes, or 51.57 percent, to Sheriff Woody's 12,760 votes, or 48.43 percent.
Asked if she expected the result, Ms. Irving laughed, saying, "I'm a big dreamer. I always expect to win."

It was an obvious shock to the 71-year-old sheriff, who looked like an injured deer caught in the headlights as he left Club 533 with family and supporters after the disappointing results came in.
Suddenly, his days of leading a department of 462 personnel and a $38 million budget are numbered, with his final day in office at the end of December. Along with operating the jail, he has been responsible for courtroom security, serving civil papers and handling evictions. His annual salary is about $145,000 a year, and is set to rise to nearly $148,000 in August.
Brushing off questions Tuesday night, he said only, "She won. The people have spoken. I'm done."
However, he also made it clear that Ms. Irving would have his support in the general election set for Nov. 7.

Two independent candidates have filed to run against her —perennial challenger Emmett J. Jafari and Kenneth Foster, a former Richmond police detective who previously ran for sheriff in Nottoway County.
It is not clear what Sheriff Woody did that pushed the majority to mark the dot beside Ms. Irving's name at the polls.
A common theme was summed up by former City Councilman E. Martin "Marty" Jewell: "I think people felt it was time for a change."
During the campaign, Ms. Irving had hammered the sheriff's propensity for hiring relatives to key jobs and highly publicized deaths of a few inmates, which had led to expensive lawsuits.
She also criticized him for not doing enough to deal with the mentally ill in the jail, despite his public efforts to divert such inmates to community mental health services or his work with other agencies to create a mental health court.
Speaking to reporters, Ms. Irving praised Sheriff Woody for his achievements, including getting the city to spend $132 million to build the Richmond Justice Center to replace the outmoded jail that was a sweat box in the summer.
During his tenure, Sheriff Woody also had installed programs to help inmates kick addictions, get their GED, connect with their children and focus on changing their lives.
Ms. Irving said she had no plans "for the destruction" of the positive efforts Sheriff Woody has infused in the jail

Instead, she said that she would work to improve such programs and enhance services. She also sought to reassure deputies that she would not rush to remove or replace the staff Sheriff Woody has in place.
She said that she will want to ensure that that the "right person is in the right position" and that "we have good resources and services for the individuals who are incarcerated."