Irving to become Richmond's next sheriff
11/10/2017, 6:17 p.m.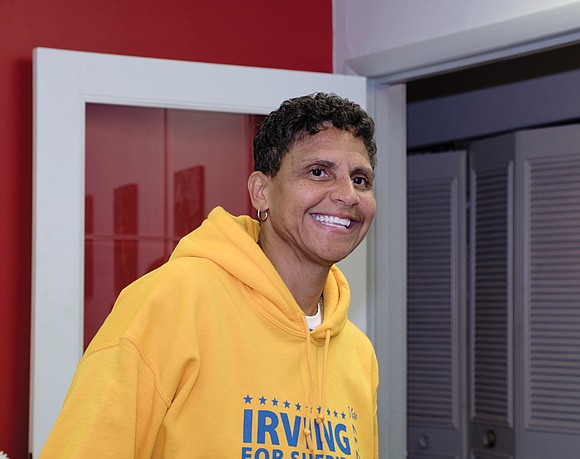 By Ronald E. Carrington
"I am thankful for the confidence and support in me to lead the Sheriff's Office to its next level," Democrat Antionette V. Irving told supporters Tuesday night after defeating two independent candidates and a write-in challenger to become Richmond's next sheriff.
Dr. Irving, a retired major with the Henrico County Sheriff's Office who grew up in the Creighton Court public housing community and earned a Ph.D. in business administration from Northcentral University, had challenged longtime Richmond Sheriff C.T. Woody Jr. several times before beating him in the Democratic primary in June.
The 52-year-old then went on to take an early lead in Tuesday's general election, winning 38,747 votes or 62 percent of the total. She outpaced independent candidates Nicole D. Jackson, who received 16,311 votes or 26 percent, and Emmett Johnson Jafari, who received 4,895 votes or 7.8 percent.
Retired Richmond Police Sgt. Carol Adams mounted a last-minute write-in campaign. The write-in votes cast in the election totaled 984, or less than 5 percent of the total votes cast. However, election information available late Tuesday did not show whose name was written in.
"I am honored at the trust Richmond citizens have placed in me and I pledge to work my hardest to serve with integrity, compassion, professionalism, accountability and transparency," Dr. Irving said in a statement to the Free Press.
The sheriff, a state-funded constitutional position, earns $148,000 annually and is responsible for managing the city jail, security at the city's courts buildings and serving legal papers.
In a telephone interview Wednesday, Dr. Irving said she plans to provide programs and services to support inmates and their families during community re-entry, therefore reducing recidivism. She also said she wants to boost staff morale by instituting new hiring and promotion processes.
"Effective service is accomplished through appropriate staffing, improving morale by providing officers the proper training so they are equipped with effective tools and resources to do the best possible job they can," Dr. Irving said.
Dr. Irving's campaign also focused on improving health care and mental health services and resources to inmates at the Richmond Justice Center.
"I want our citizens to believe in their Sheriff's Office as we believe in the city," she said.