Personality: Rodney A. Robinson
Spotlight on RPS 2018 Teacher of the Year
11/10/2017, 6:46 p.m.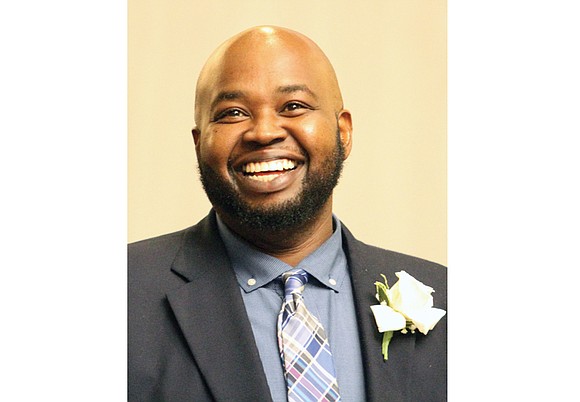 History, dedication, duty and fulfilling the dream of his mother paved the way for Rodney A. Robinson to become Richmond Public Schools 2018 Teacher of the Year.
The 39-year-old son of a construction worker and an in-home day care center owner teaches history and social studies at the Virgie Binford Education Center, which is part of the Richmond Juvenile Detention Center.
"My mother wanted to become a teacher," he recalls. "However, growing up in segregated King and Queen County, she was denied her goal and dream.
"She was my best teacher. She always pushed me, my siblings and other children under her care to further their education. She also taught me that you're never too old or young to learn something. I've always felt it was my duty to fulfill her dream."
Mr. Robinson's first teaching job was in 2000 when he was a civics and economics teacher at Lucille Brown Middle School. Since then, he has put to use the early lessons from his mother in working with students, including the unique population of students in juvenile detention that he has worked with since 2015.
"All students can learn," he says. "It is up to the stakeholders of the school to provide the students with all the tools they may need to learn."
He views the student-teacher relationship as the "most important tool" in fostering academic success.
"You have to get to know the students inside and outside of the school — what makes them tick and what they like to do. If the child doesn't feel like you genuinely care about their interests other than what they do on a test, then they will not perform for you the way they need to."
He incorporates fun into lessons, he said, to engage students and help them to learn and retain information.
"The more difficult the concept or topic, the more fun I try to make it," Mr. Robinson says. "When students are entertained, learning can rarely feel like learning. Through the use of games and music, student learning can be dramatically increased. I allow my students to create songs, skits and poems to help them better understand difficult concepts." His data-proven, best practices to invigorate learning are working.
At a ceremony Nov. 2 at a Downtown hotel, Mr. Robinson was announced as RPS' 2018 Teacher of the Year. He was selected by a committee of teachers based on his innovative classroom instruction, individual student performance and his demonstrated dedication to the profession.
"I was shocked and surprised," Mr. Robinson says, "but honored to be considered one of the best teachers in the state." Education does not begin nor end in the classroom, he says. His volunteer work coaching and officiating sports also helps him "to create a bond with students, parents and community stakeholders that I use in the classroom to promote student motivation and achievement.
"I try to be a role model and someone my kids can rely on as they look for advice or anything that they need," Mr. Robinson says. "Some need fatherly figures and some just need friends. I'm there to be whatever they need."
He also views volunteer work as helping students understand the need to give back to the community and how to become engaged.
"The students have done voter registration drives, volunteered for different political parties and candidates, worked in the Boys and Girls Clubs," he says, and helped with cleanup efforts at historical cemeteries in the area and the former Lumpkin's Jail site in Shockoe Bottom, a former slave pen that became the 1867 home of the forerunner of Virginia Union University.
"This encourages students to be civically active by becoming more involved so that they can take control and give back while not letting anyone come in and take over their community. The key thing is they have that life experiences that they can learn from."
Many of his former students, he says, are now running their own community programs. "Their success is my success and joy."
Meet the Richmond Public Schools 2018 Teacher of the Year and this week's Personality, Rodney A. Robinson:
Latest accomplishment: Richmond Public Schools 2018 Teacher of the Year.
Date and place of birth: Sept. 9 in Richmond.
Current residence: North Chesterfield.
Alma maters: Bachelor's degree in history, Virginia State University, 2000; master's in educational administration and supervision, Virginia Commonwealth University, 2011.
Family: Wife, Summer Robinson.
Occupation: Social studies department head, Virgie Binford Education Center.
How long I've been a teacher: 18 years.
Community involvement: I volunteer coach and officiate Little League, middle and high school sporting events in the East End community. I also participate in and support East End booster clubs and community activities. I was recognized for my service to the East End community by winning the Veterans of Foreign Wars National Citizenship Education Post Recognition Award. As an active member of Richmond's historical preservation community, I have led panels and discussions on how the city should promote and remember its past. I have participated in preserving the community through preservation projects such as cleaning local cemeteries. My historical appreciation for this city has driven me to give historical tours to education groups traveling through the city.
Foremost reward of teaching: The biggest reward for me is watching students learn and succeed. I have students who passed a formative assessment for the first time and students who are doctors and lawyers, and my joy for them all is the same. The relationships I form with them allow me to understand their hopes, fears, pain and struggle. Therefore, their success is my success and joy.
Foremost challenge: The biggest challenge in education is trying not to let the outside world affect learning in your classroom. A teacher has to create a safe and nurturing environment that allows the student to feel comfortable to learn.
Advice to aspiring teachers: Always be professional and a lifelong learner. Never let the politics of education destroy you and your students' excitement for learning.
Role of parents in learning process: Parents are your partners in the learning process. They know their children better than anybody, and it is the job of the teacher to get to know and understand each parent in order to learn how each student learns and functions in school and life.
Biggest problem facing students today: The abundance and availability of information and "fake news" in the world.
How this problem impacts schoolwork: Information,without the ability to process and understand, leads to confusion and bad decisions that can have a negative effect on a student's life.
What needs to be done: Educators need to teach critical thinking skills earlier to allow students to understand information and to make better informed decisions.
Does technology make teaching easier or difficult? Technology can complicate education if you are not teaching students to properly use it.
A good teacher is: A constant advocate for what is best for his or her students, regardless of the professional and personal consequences.
A good student is: One who is willing to ask questions and seek knowledge without the fear of being judged for asking.
Favorite subjects in school: Band and math.
How I start the day: I start every day with a positive message with my students and co-workers to set the mood for learning.
A perfect day for me is: When I am exhausted from teaching and inspiring.
Something I love to do that most people would never imagine: Water aerobics classes at the YMCA.
Kindergarten taught me: Believe but always verify for yourself, and never be afraid to ask questions, even if those questions are unpopular.

A quote that I am inspired by: "I am the number one determinant of my student's success or failure" — Principal Baruti K. Kafele
How I unwind: Watching silly TV shows and bad movies.
The top of my "to do" list is: Complete my book on advice for new and aspiring teachers.
Persons who influenced me the most: My parents, Elmore, who died in 2012, and Sylvia Robinson.
Book that influenced me the most: "Closing the Attitude Gap: How to Fire Up your Students to Strive for Success" and "Motivating Black Males to Achieve in School and Life," both by Baruti K. Kafele.
What I'm reading now: "Brain Rules: 12 Principles for Surviving and Thriving at Work, Home and School" by John Medina.
Next goal: To complete my doctorate in educational administration.