80¢ cigarette tax goes up in smoke at City Council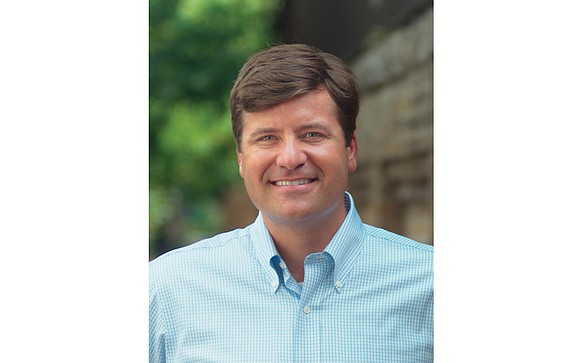 By Jeremy M. Lazarus
Richmond smokers will not have to pay an extra 80 cents for a pack of cigarette.
After hearing from more than 50 speakers and nearly an hour of debate, Richmond City Council, with a 6-3 vote, killed a proposal to impose a city tax on cigarettes that Councilman Parker C. Agelasto, 5th District, had spearheaded.
Council President Chris A. Hilbert, 3rd District, and Kristen N. Larson, 4th District, were the only members to join Mr. Agelasto in supporting the tax measure that was projected to raise an extra $5 million a year for school maintenance — small by the size of the needs, but huge compared with the alternative.
The vote means Richmond remains the only large city in the state that does not impose a cigarette tax.
Mr. Agelasto said that without the tax, there would be no additional money to deal with Richmond Public Schools' repair and maintenance needs that keep growing.
The city School Board requested $31 million for the 2018-2019 fiscal year to begin to deal with more than 3,200 requests for repairs and improvements that Superintendent Jason Kamras has sitting on his desk and that he told the council he can do nothing about.
As it now stands, Mr. Agelasto said, the school system can expect to receive only the $1.5 million that Mayor Levar M. Stoney has proposed for repairing roofs, maintaining old boilers, fixing failing air conditioners and a host of other problems in the 2018-19 fiscal year that starts July 1 and just $3.5 million in the 2019-20 fiscal year.
Mr. Agelasto said the council has so far failed in its efforts to carve out extra funds from the shrunken capital budget to boost spending on maintenance for the more than 30 school buildings that need serious help as it prepares a new two-year budget for the 2019 and 2020 fiscal years.
But he could not sway other council members to support the tax, all of whom faced a sea of people at Monday night's meeting. Some speakers said they feared a tax could destroy their small businesses that sell cigarettes, and others said they feared council would not produce additional money to help public schools.
Two veteran council members who voted against the tax proposal, Council Vice President Cynthia I. Newbille, 7th District, and Ellen F. Robertson, 6th District, vowed to create a commission to come up with a comprehensive plan to provide full funding to modernize Richmond's decaying schools and to meet the school system's full maintenance needs.
Each offered that promise as Mayor Stoney prepares to deal with a new voter-passed, General Assembly-approved City Charter requirement effective July 1. The charter change, which was signed into law recently by the governor, requires the mayor to come up with a plan to modernize all city schools or explain why he cannot.
They also issued the promise as a newly created General Assembly subcommittee begins to study ways the state could help address school facilities problems in the capital city and across the state.
Mr. Agelasto said Richmond doesn't need another commission. He said a 2016 task force, as well as updated and recent reports from financial consultant Davenport & Co., identified the cigarette tax as one of the few options available to the city as a source of funds for schools.
"What more information do we need? The time has come for action, not more studies," he said.
Mr. Hilbert, too, was critical of waiting for a comprehensive plan. "In other words, if we can't do everything, we should do nothing," he chided his colleagues.
"Every journey starts with the first step," he said, in describing the cigarette tax as a first step toward a larger plan for city schools.
Dr. Newbille was not impressed. She said she could not vote for the cigarette tax because it would raise too little money and was just another effort that falls far short of the RPS needs.
The recent passage of a 1.5 percent increase in the city's meals tax that is designed to raise $150 million to build four new schools "gives us an opportunity" to take the time to find ways to do more, Dr. Newbille told her colleagues.
"What we need is a comprehensive plan," she said, in which a cigarette tax might be one piece of a total proposal to enable Richmond to pour an additional $600 million into school construction and provide the $30 million a year needed for maintenance.
Dr. Newbille said a comprehensive plan could include increases in property taxes and other fees, along with contributions from corporations and foundations.
Richmond operates 44 schools. Since 1998, the school system has closed 17 old buildings and added eight new buildings. Four additional new buildings are scheduled for completion in the next five years with the funds generated by the meals tax increase. But that leaves at least 32 other buildings that need major overhauls or replacement because of their age and condition.
Ms. Robertson, who opposed the cigarette tax because the funds would not be dedicated to fighting addiction, said she would join in the effort to put a comprehensive plan in place.
However, despite the promise, neither Dr. Newbille nor Ms. Robertson has advanced any major amendments to push more funds to schools for repairs or educational instruction during the council's current review of the budget.

Nor has any council member supported cutting the mayor's proposed spending plan to generate new funding for schools.
A 1 percent reduction in the budget plan would generate about $7 million a year, or a bit more than Mr. Agelasto's proposed cigarette tax.
Council members Kim B. Gray, 2nd District, and Reva M. Trammell, 8th District, expressed concern that the tax could lead tobacco giant Philip Morris to take its cigarette manufacturing operation, its 3,600 employees and the $17 million a year it pays the city in taxes to another locality like Henrico or Chesterfield counties that cannot tax cigarettes.
Ms. Gray also agreed with convenience store owners that the cigarette tax could drive away customers, who would simply cross into the counties to buy cigarettes without tax.
Several store owners told the council that passage of the tax was likely to mean a 20 percent to 40 percent drop in sales of gas, candy and other items that cigarette buyers also purchase. Some also said passage would lead to employee layoffs and possible store closures.
Meanwhile, teachers like Jessica Shim, who teaches math and science, pleaded with the council to pass the bill. She said her students are personally affected by the lack of funding because they are crammed into a tiny space where there is not enough room even for a teacher's desk.

A Binford Middle School science teacher recounted the day when only half the school had heat and only half the school had working internet. She called it a constant struggle to ensure students receive the instruction they need to advance.
In the wake of the vote, Mr. Kamras expressed disappointment that the tax failed. He said only a few hundred thousand dollars is left in the RPS maintenance budget, which must be saved for dire emergencies.
In response to statements from Dr. Newbille and Ms. Robertson that the school system still has $13 million to $14 million in unspent maintenance dollars, he said that "everyone is double-counting the money."
He said that amount is what remains from $19 million the council provided at least two years ago as a down payment on construction of several new schools.

Some of the money has been used to add more trailers to overcrowded schools on South Side, such as Broad Rock Elementary, but the remaining dollars, he said, are being saved to pay for design and other up-front costs for the four new schools that are to be built with the meals tax dollars.
The dollars that were projected to come from the cigarette tax "might be a drop in the bucket," he told the council "but it's a badly needed drop."