No dignity in pastors' meeting with Trump
Barbara Reynolds | 8/16/2018, 6 a.m.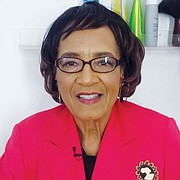 "Many of us have been indicted, arrested and our homes bombed, but when we stand before the Negro population at prayer meetings, we can repeat that it is an honor to face jail for a just cause."
If only those words of just causes and sacrifices of Dr. Martin Luther King Jr. and the actions of thousands of others—both black and white—had seared the souls of the African-American preachers who met with President Trump on Aug. 1, they could not have praised a man who has vulgarly demeaned women, executed a policy locking brown kids into cages and labeled black African homelands as "shholes."
Yet their skunk-like presence could not have hit so hard if more of the authentic preachers who fancy themselves as moral leaders had stood up forcibly to the obscenity of the Trump brand.
In the vacuum of leadership, the skunk-like pastors just walked into the tea party, became intoxicated by having a seat at the table and left a smelly scent over the just causes of African-American communities.
The meeting was organized by Pastor Paula White of Florida, a white evangelical Trump supporter, to discuss prison reform, but it made no mention of the racial injustice that fuels it nor why black NFL players protesting the broken criminal justice system are called SOB's by the president.
No dissent was voiced as one pastor praised President Trump as one of the most "pro-black" presidents and belittled former President Obama, the nation's first African-American president.
While Dr. King's name was bandied about in the meeting, the ministers should have emulated him by speaking forcefully as moral leaders with an agenda that should have included taking President Trump to task for his consistent disparaging of black people, including CNN's Don Lemon, Congresswoman Maxine Waters of California and the NBA's LeBron James as dumb or low-IQ individuals.  While this character assassination may energize Trump's base, it also helps make African-Americans vulnerable to hateful acts of harassment and discrimination.
Dr. King and his disciples often had a seat at the table meeting with presidents, but they were accountable to those who depended upon them to address their pain. In high level meetings, the King aides worked to control the content of the agenda, searching for a win-win position. Only if that failed did direct action of boycotts and or marches follow.
A model of Dr. King's nonviolent methods was a meeting with President John F. Kennedy, which resulted in the 1963 March on Washington after the president did not agree to forcibly press Congress to pass a strong federal civil rights bill. President Kennedy's initial reaction, reportedly, was that the march was ill-timed. But the movement leaders decided there is no right time for injustice. The march resulted in the bill signed into law on July 2, 1964.
"It was a matter of dignity," Ms. Parks said. "I could not have faced myself, or my people, if I had moved."
The black preachers who met with President Trump apparently march to a different beat. But despite their failings, they are only part of the problem because some black church leaders and major civil rights groups who carry weight in the black community have not raised their voices loud enough or cemented a strategy to counter the abuses of President Trump and the GOP leaders who protect him.
So, what happens when there is silence among the righteous? The ugly truths have a party and convince themselves of their greatness.
The writer is an ordained minister, educator and columnist for USA TODAY.