Supplies surprise: $200 shopping spree helps teachers get ready for school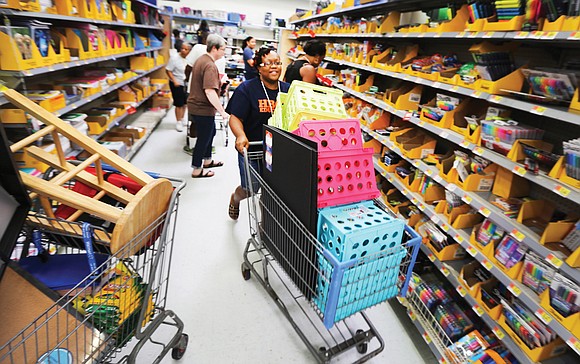 Wednesday was a big day for about 200 teachers from the three city public schools that sit along Forest Hill Avenue in the 4th Council District.

Each teacher was awarded a surprise $200 shopping spree at the Walmart store on Sheila Lane, just off Forest Hill Avenue.
The gift took place at a time when some city teachers are complaining in Facebook posts and on other social media sites about dipping into their own pockets to buy classroom supplies.
Events like the one Wednesday and other school supply giveaways this month appear to be helping.
And Richmond Public Schools' 2,000 or so teachers can expect to have extra money — $150 apiece — from the school system to buy supplies when classes begin next Tuesday, Sept. 4.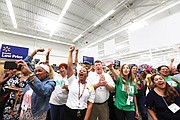 Mayor Levar M. Stoney and schools Superintendent Jason Kamras joined in breaking the news of Walmart's surprise gift to educators from Westover Hills Elementary, Elkhardt-Thompson Middle and Huguenot High schools.

The store teamed with Coca-Cola to provide $40,000 for the shopping sprees to help the teachers get their classrooms and themselves ready for the start of the school year, said 4th District School Board member Jonathan M. Young, who helped keep the secret.
He said the teachers were only told to be at the store at 11 a.m. for a presentation.
"The store manager follows the news and knows the challenges teachers are facing and how hard they work," Mr. Young said. The manager "also is aware that many of the parents and students who shop at the store attend the nearby schools and wanted to give back to their teachers."
The Walmart event was a highlight in a month that also featured a variety of community events in which volunteers collected notebooks, paper, pencils and pens and handed them out to students, or in some cases, to specific schools to be distributed after students return.

The Richmond School Board in June set aside at least $300,000 to ensure each teacher could buy $150 worth of supplies for his or her classroom.
Mr. Kamras plans to tell the 2,000-member teaching corps on the first day of school about the additional funds.

That is on top of the collective $3 million that the board provides to its 44 schools to pay for classroom materials and to cover other costs, including field trips, printing, staff development and instructional equipment. In general, school principals determine how that money is spent. Each school receives its share based on the Sept. 30 enrollment figure.
RPS spokeswoman Kenita Bowers stated the total amount works out to $110 per student, plus an additional $110 for each student in special education, which means schools with more students get more money.
Still, according to Ms. Bowers, money each school receives appears to cover the needs.
Ms. Bowers stated that the administration is "unaware of any schools running out of supply money" when asked for information on how many city schools ran out of copy paper, glue sticks or similar items in the past and could not provide them.