Groundbreaking: RPS and city officials celebrate the start of construction of 3 new city schools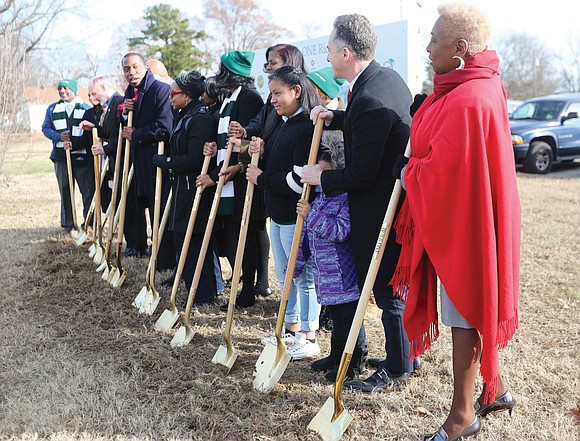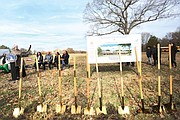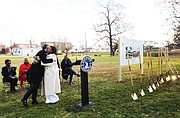 It was a day for smiles, celebration and looking to the future Wednesday as Mayor Levar M. Stoney, Richmond Schools Superintendent Jason Kamras and elected city and School Board officials broke ground for three new city schools.
The ceremonies, each held at the new sites on the hour from 9 to 11 a.m., marked the start of construction on two new elementary schools and a new middle school to replace three of the city's many dilapidated and overcrowded buildings that have become a major cause for concern for school administrators, teachers, parents and local residents alike.
Totaling $110 million, the construction projects will replace aged George Mason Elementary School, built in 1881, at 28th and M streets in the East End; overcrowded E.S.H. Greene Elementary, built in 1954, in the 1700 block of Catalina Avenue in South Side; and the former Elkhardt Middle School, 6300 Hull St. Road in South Side, which was shut down in February 2015 because of mold and other environmental issues hazardous to the health of children.
The schools are being funded largely from a 1.5 percent addition to the city's meals tax, which started July 1 and is expected to generate $9.1 million annually to help repay construction loans. The new buildings are to be completed in time for the start of classes in the fall of 2020.
The ceremonies on Wednesday drew small crowds, the largest being about 50 people at the George Mason Elementary site. At each ceremony, Mayor Stoney and Mr. Kamras thanked the City Council and the School Board for making Wednesday the beginning of a new day for education in Richmond and the start of keeping a promise to provide a world-class education to the city's 24,000 public school students.
"This … investment was made possible by our community in a united and concerted effort … from every resident and city visitor who eats in our amazing restaurants," Mayor Stoney said.
He talked about meetings during summer 2017 when parents and other stakeholders demanded better conditions for Richmond Public Schools students.
"This is a beautiful day and the beginning of doing better for our children," Mayor Stoney told the gatherings. "There is no better project than breaking ground for three new schools. This is just the beginning, and there is more to come."
During an impromptu moment at George Mason, Mr. Kamras invited fifth-grader My'ciun Patterson to express his feeling about the future new building. The surprised youngster stepped up and told the audience, "I am proud of myself for taking part in the planning of the new building and I am going to keep working hard to be successful."
At each gathering, Mr. Kamras spoke of supporting the city's investment.
"I thank the mayor and city council for their leadership, stepping up and putting the meals tax on the table and shepherding it to where we are today," he said.
Among the City Council and School Board members attending the groundbreakings were Council President Chris A. Hilbert, 3rd District; Council Vice President Cynthia I. Newbille, 7th District; Councilman Michael J. Jones, 9th District; School Board Chair Dawn Page, 8th District; and board members Jonathan Young, 4th District, Cheryl L. Burke, 7th District, and Linda Owen, 9th District.
"This is a critical first step in our commitment to all 24,000 of our children to have the highest quality education in state-of-the-art facilities," Dr. Newbille said.
"This is the beginning of the actualization of that commitment," she continued. "I am also committed to the 40-plus city schools in providing a stellar educational experience to all of our students."
Mr. Young told those gathered at the Elkhardt Middle School ceremony that the new building is to accommodate 1,500 students, with "schools within the school with 500 students in each."
"The idea is to provide for intimacy within the building," he said. "These 21st century facilities will provide experiential learning. Instead of students sitting behind desks, we have an opportunity for students to learn in a hands-on environment. We are providing a new laboratory for learning."
Committees of parents, students, teachers and city residents were critical in the community engagement and neighborhood meetings leading up to the construction projects and in choosing designs for the new schools, officials said.
Douglas Scroggins, chief custodian at Elkhardt-Thompson Middle School for 11 years and selection team member, said, "This has been a long time coming. When (Elkhardt) merged (with Thompson Middle School), I didn't think this was going to happen. Being a part of the movement into the 21st century makes me ecstatic and happy."