Deshauna Barber, Miss USA 2016 and VSU alumna, keeps it real for VSU fall graduates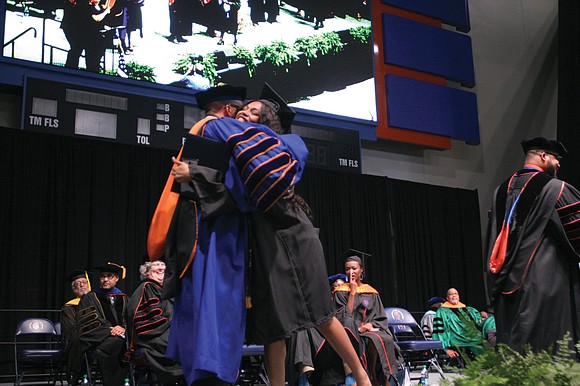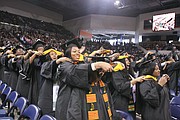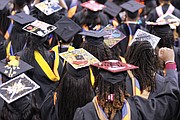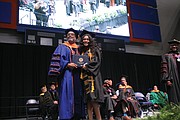 Miss USA 2016 Deshauna Barber, a Virginia State University alumna and captain in the U.S. Army Reserve, provided some valuable life lessons during VSU's fall commencement, which was held last Saturday at the school's Multi-Purpose Center.
"I have about 50 lessons I wish someone had told me when I was sitting in those seats," Ms. Barber told the more than 300 graduates. "But in the interest of time, I will give you four."
Collectively called "Four Lessons to Success after Graduation," Ms. Barber, who also works as an IT analyst for the U.S. Department of Commerce, instructed the graduates to value their support system, to persist through failures, to be patient regarding their desires and to champion a cause that falls outside their direct benefit.
The 29-year-old had no problem establishing credibility, reminding the audience that the steps that led her to being the first active military officer to be crowned Miss USA and to become a highly sought after motivational speaker all began at the Cracker Barrel restaurant in Chester.
"So I didn't have a 'real job' lined up after I graduated and it was scary," Ms. Barber admitted to the graduates.
The Columbus, Ga., native not only had to move back home with her parents after graduation, but she acknowledged she lacked patience with her desires. In a moment of "stupidity," she said, she traded her 2005 Volkswagen with a $60 monthly payment for a 2010 Hyundai Genesis coupe that gouged her for nearly $600 a month.
"Did I tell you guys that I was working at Cracker Barrel?" she quipped.
She went on to share a series of personal anecdotes, and also drew from the 1995 comedy "Friday," to drive home her lessons.
In the film, the main character Craig, played by rapper Ice Cube, grew tired of the harassment levied by the neighborhood bully, Deebo, played by Tiny Lister Jr. In the end, Craig finally made a stand, defeated Deebo and restored peace and harmony to the entire neighborhood.
"Haven't ya'll gotten Craig-tired yet?" she asked the audience, telling graduates to support a cause that benefits others and not just themselves.
Ms. Barber used her platform as Miss USA 2016 to shed light on race relations and gender and pay equality issues in the military.
In addition to welcoming a returning alumna at the commencement ceremony, VSU President Makola M. Abdullah sent his daughter out into the world.
Among the 300 graduates on Saturday was Sefiyetu Abdullah, 19, daughter of the VSU president and his wife, Ahkinyala Cobb-Abdullah. Ms. Abdullah graduated summa cum laude with a bachelor's in mass communications.
"Our baby girl is graduating," beamed Dr. Abdullah. "I will have the privilege of presenting the degree to our daughter with a handshake and a great big hug and kiss," he added.
VSU also recognized two outstanding students — valedictorian Barry G. Brown Jr. of Chesapeake, who finished with a 3.985 GPA and earned a bachelor's in management, and 18-year-old Jazmine Delbrune of Brooklyn, N.Y., the youngest graduate. Ms. Delbrune earned a bachelor's in biology.