Dr. Harvey to VSU graduates: 'Let's get on with it'
George Copeland Jr. | 12/23/2021, 6 p.m.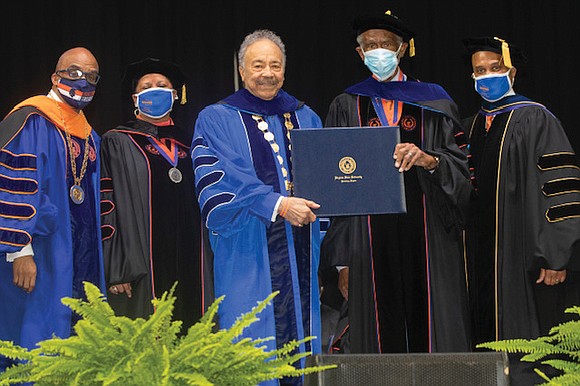 "We believe that the sun rises and shines on you, and we believe that there is nothing, nothing, nothing that you can't do."
Virginia State University President Makola Abdullah offered these final words to the university's fall graduates last Saturday at the VSU Multi-Purpose Center.
It was the first indoor commencement ceremony since the pandemic began in March 2020, and brought together hundreds of graduates, their families, VSU faculty and staff and others to celebrate the occasion.
University officials limited each graduate to four guest tickets to allow for social dis- tancing according to COVID-19 safety protocol. The ceremony also was streamed live and broadcast on WVST, the campus radio station.
Graduates were lauded for their endurance and commitment to education through the changes forced by the pandemic.
"On behalf of the thousands of people who are here and watching and waiting to hear your name called, I say we are proud of each and every one of you," Dr. Abdullah said in congratulating the graduates.
Among the roughly 300 graduates receiving degrees was Sonia Jackson, a 72-year-old registered nurse who works as a school nurse in Amelia County. Ms. Jackson is the inau- gural graduate of VSU's online bachelor of science in nursing program for working RNs who have an associate degree in nursing or a diploma from a hospital nursing program. Ms. Jackson had received her diploma in nursing from Petersburg General Hospital and retired twice before going back to work in Amelia County.
"Nursing is a lifelong learning experience, so this has always been a goal of mine. My children are all college graduates, so I decided it's my turn," she said in a statement about earning her degree.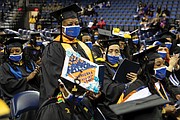 "My husband is an alumnus of Virginia State University, and my grandmother went to Virginia State, so I know the value of a VSU education."
Recognition also was given to the commencement's keynote speaker, Dr. William R. Harvey, who as president of Hampton University since 1978 is one of the longest serving college presidents in the United States.
He announced in December 2020 that he will retire from the presidency in June 2022.
A graduate of Talladega College, Dr. Harvey earned a master's from VSU in 1966 and his Ph.D. from Harvard University in 1972. His wife, Norma Harvey, also went to VSU. Dr. Harvey also is the owner of the Pepsi Cola Bottling Co. of Houghton, Mich.
At the ceremony, he was awarded honorary degrees both from VSU and from Virginia Union University, which sent a representative to bestow the honor.
In his remarks, Dr. Harvey offered a wide range of advice to graduates. He called on them to be ambitious, compassionate leaders and innovators in their chosen fields, and to be those that value and practice "high standards and exemplary care."
"I congratulate you on what you have achieved and I am confident that the world will be made better through your continued achievements," Dr. Harvey said.
"Fellow Trojans, graduating class of 2021, the world is waiting for you. Now let's get on with it."