VSU's 2022 graduates heralded for hard work, sacrifices and technological savvy
Chip Lauterbach | 5/19/2022, 6 p.m.
Cheering family, friends and loved ones celebrated the achievements of Virginia State University's nearly 500 graduates on May 14 at the VSU Multi-Purpose Center.
Serving as head cheerleader was VSU President Dr. Makola M. Abdullah, who applauded the graduates for their hard work and perseverance in reaching such an important milestone.
"With the help of our dedicated faculty, staff, and students, we continue to position ourselves as one of the best universities, period," Dr. Abdullah said.
During the emotionally charged event, approximately 425 bachelor's degrees were awarded, along with the conferral of 69 master's and six doctoral degrees. Dr. Abdullah also conferred honorary degrees to U.S. Rep. Alma Adams (12th District-North Carolina), former VSU President Dr. Keith T. Miller and Mr. Huron F. Winstead, a VSU Class of 1989 graduate and former member of the VSU Board of Visitors.
Among the graduating class, Dr. Abdullah recognized Kyle Jacobs, 24, who overcame homelessness and a rough upbringing in foster care to complete his undergraduate studies. Now that he has earned his bachelor's from VSU's College of Agriculture, Mr. Jacobs will study sustainability management in graduate school at New York's Columbia University, where he was awarded a full scholarship
"Kyle's is a story of perseverance through enormous life challenges and the power of a transformational education experienced here at Virginia State University," said Dr. Abdullah.
Dr. Khaalida Forbes, a minister, motivational speaker and licensed clinical therapist, was the commencement speaker. Dr. Forbes earned her bachelor's in sociology from VSU as well as two master's in social work and divinity from Howard University. Dr. Forbes also earned her doctoral degree in ministry from United Theological Seminary.
"To the graduates and all of the family members who came from near and far, I want to honor you today and I want to applaud you today for every sacrifice that has ushered you to this very special moment in time," Dr. Forbes said.
While congratulating the students for their hard work over the years, Dr. Forbes encouraged the students to look to their left and right and congratulate their fellow graduates with a hug and to shout in unison, "We made it!"
Dr. Forbes reminded the Class of 2022 that, having grown up in the most advanced technological development in human history, they have opportunities to reach wider audiences and to connect their communities with others.
"You are the generation that will take technology of today to new and dizzying dimensions," she said. "And why? Because you were born for this."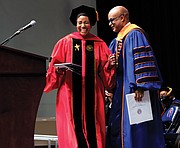 Dr. Abdullah presented several posthumous bachelor's degrees to the family members of VSU students who died before completing their studies. Posthumous degrees were awarded to Anisa M. Sistare (marketing), Destiny K. Lyles (management), Ronal A. Worthy (management) and Daniel N. Wharton (computer engineering). Kameron Gray, VSU's Student Government Association president for the class of 2022, congratulated his fellow students and reminded them of their limitless possibilities.
"Virginia State University allows a safe haven for those that walk in their purpose," Mr. Gray said. "Scholars, you have persevered and rose to the occasion to gracefully and fearlessly walk this stage."