VSU recognizes 700 grads in first in-person commencement since 2019
George Copeland Jr. | 5/27/2021, 6 p.m.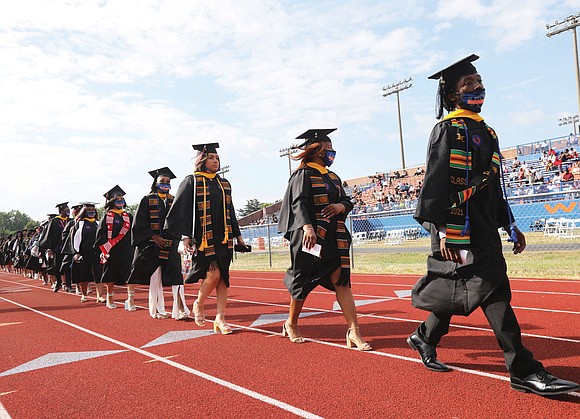 It was a day of celebration last Sunday at Virginia State University, as three classes of graduates marched and were recognized during the first in-person commencement held at the university since 2019 because of the pandemic.
The four-hour ceremony, where graduates were seated socially distanced on the stadium's field and a limited number of guests watched from the stands, recognized a combined 700 graduates who completed their degree requirements in spring 2020, fall 2020 and spring 2021.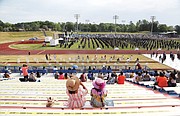 Nearly an hour was focused on students walking individually across the open air stage to receive their degrees and take photos with VSU President Makola M. Abdullah.
"We are leaving behind a legacy for the potential of greatness, a legacy of finding self-love, preservation, perseverance, joy and victory," said Jeremiah Brooks, president of the Class of 2021 in his remarks.
Commencement speaker Angela Rye, an attorney and political-social commentator, told graduates they are now ready for the draft into the fight for racial equality in this nation, an ongoing battle for progress.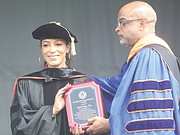 Ms. Rye talked about the many police killings of African-Americans, the assaults on democracy and voting rights and the displays of racism that have dominated and defined much of the past year.
She urged graduates to prepare for their necessary, inevitable part in ensuring future generations of Black people won't have to fight the same battles against threats to their rights and personhood in a country that she said often has disregarded both since its very founding.
"We've been in multiple battles and we're still in multiple battles," Ms. Rye said. "And yet, we must continue. You can choose which battle or battles to fight, but you may not choose whether to fight now."
Benjamin Crump, a Florida-based attorney who has represented the families of several people who have been killed at the hands of police across the nation, including George Floyd in Minneapolis, was awarded an honorary degree during the ceremony.
Also receiving an honorary degree were VSU alumnus Harry E. Black, city manager of Stockton, Calif., and former rector of VSU from 2013 to 2018; VSU alumna Delegate Roslyn C. Tyler of Sussex County, chair of the House Education Committee; Delegate Luke Torian of Prince William County, head of the powerful House Appropriations Committee; retired Lt. Col. Jona McKee, a VSU alumnus, former professor of military science and founder of the VSU Athletic Boosters Club in 1963; VSU alumna Dr. Gladys B. West, a mathematician who was instrumental in the development of GPS, global positioning system; and retired Col. Porcher L. Taylor Jr., a VSU alumnus and former administrator.
During the ceremony, three valedictorians from the last three classes were recognized. All three graduated summa cum laude with a 4.0 GPA. They are Jneva Rae Norfleet of Woodbridge, political science major, spring 2020 graduate; Richard Cornel Green, computer science major, fall 2020 graduate; and Ashanti Melquise Beverly Day of Winchester, mechanical engineering technology major, spring 2021 graduate.