Emmy winner Jesse Vaughan, 6 others to be inducted into Va. Communications Hall of Fame
3/16/2018, 12:36 p.m.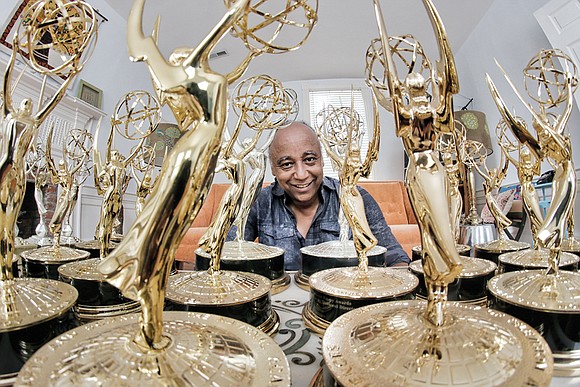 Emmy Award-winning director and producer Jesse Vaughan, a Richmond native and creative director of Advance Creative Service Group at Virginia State University, is among seven people who will be inducted into the Virginia Communications Hall of Fame.
The black-tie event, which includes a cocktail reception and dinner followed by a dessert reception, will be held from 5:30 to 9 p.m. Thursday, March 29, at the Altria Theater, 6 N. Laurel St.
This is the 30th anniversary for the Hall of Fame, which was started by Virginia Commonwealth University's Richard T. Robertson School of Media and Culture to recognize and honor distinguished communications professionals who were either born in Virginia or have become distinctly identified with Virginia and have made long-term contributions to the fields of advertising, journalism, public relations, new media and communications.
Mr. Vaughan, a VCU alumnus, started his career directing local news for WTVR-TV in Richmond. He directed the 2002 feature film "Juwanna Mann." His most recent feature film, "The Last Punch," chronicles Muhammad Ali's last fight. He has been nominated for 49 Emmy Awards, winning 29.
The other 2018 inductees:
• Joseph Cortina, founding partner and creative director of Cortina Productions, which designs and creates interactive multimedia for museums. A VCU graduate, he previously worked at WTVR in Richmond directing news and public affairs shows.
• Pamela K. El, executive vice president and chief marketing officer of the National Basketball Association. The VCU graduate is responsible for the NBA's global marketing operation, directing brand development, overall marketing and advertising for the NBA, the WNBA and the NBA G League.
• Jane Gardner, a retired award-winning health reporter and local news anchor at WVEC-TV in Norfolk. She started as a weather forecaster and later reporter at WSLS-TV in Roanoke and later worked at WTVR in Richmond before moving to Norfolk.
• Gene Herrick, a retired photographer for The Associated Press. He is best known for his images documenting major news stories of the 20th century, including the Korean War and the Civil Rights Movement, as well as photographing Dr. Martin Luther King Jr., Rosa Parks, Elvis Presley and Satchel Paige.
• Bernie Niemeier, publisher and owner of Virginia Business magazine. He has more than 40 years of experience in the publishing business. In September 2009, he led a private equity-funded purchase of Virginia Business from the now defunct Media General. In 2017, he acquired full ownership of the magazine and is now its sole owner.
• Dwayne Yancey, editorial page editor of The Roanoke Times and part-time playwright. He has more than 30 years of experience in the news industry as a reporter, editor, Virginia political analyst and, more recently, a journalism entrepreneur, helping to launch hyperlocal news sites and publications for The Roanoke Times.
Tickets for the Hall of Fame event are $125. Details: www.support.vcu.edu/event/halloffame30.