Family of Marcus-David Peters to speak at community meeting May 26
5/27/2018, 12:12 p.m.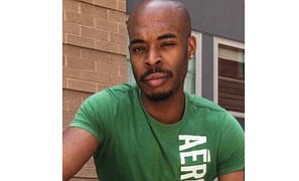 The family of Marcus-David Peters, the 24-year-old biology teacher who was fatally shot by a Richmond Police officer on May 14 after running naked from his car on Interstate 95, is calling for justice and accountability.
The family is holding a community meeting 2 to 4 p.m. Saturday, May 26, at Second Baptist Church, 1400 Idlewood Ave. in the West End.
The meeting is sponsored by the church, New Virginia Majority, Southerners on New Ground, the NAACP Youth and College Division, Virginia Defenders, Leaders of the New South and Community Unity in Action.
Mr. Peters' sister, Princess Blanding, and uncle, Jeffery Peters, who have viewed police body cam video of Mr. Peters' encounter with the police officer, will speak.
They believe Richmond Police used unwarranted excessive force in dealing with Mr. Peters and are calling for reform of police policies and better training for officers to identify and deal with people experiencing a mental health crisis.
Mr. Peters' parents refuse to watch the video and will not be present on Saturday, said Jasmine Leeward, communications associate for New Virginia Majority.
According to police, Mr. Peters hit three cars, led police on a short pursuit, then got out of his car naked and danced and rolled on the ground on the Interstate 95 northbound on ramp from Chamberlayne Avenue in Downtown before charging at a police officer.
Mr. Peters, who lived in the 6700 block of Dartmouth Avenue in Henrico County and graduated with honors in 2016 from Virginia Commonwealth University, taught biology at Essex High School. He also worked on weekends at The Jefferson Hotel Downtown.
Toxicology reports for Mr. Peters have not been made available.
Details: Ms. Leeward, (757) 478-1792.