Michelle Obama's memoir already a best-seller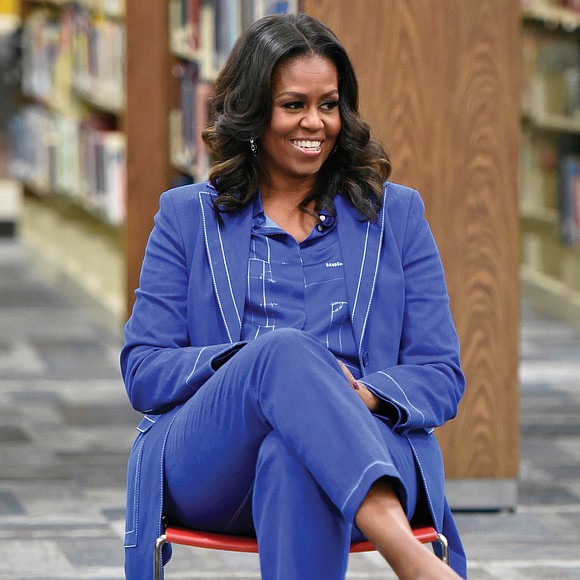 On its first day on sale, Michelle Obama's new memoir already is a best-seller.
The former first lady's book, "Becoming," was released Tuesday by Crown Publishing Group and already was a top seller at Amazon.com.
It also had drawn more pre-orders from Barnes & Noble than any adult book in three years.
Another sales boost came from Oprah Winfrey, who announced Monday that "Becoming" is the new pick for her book club.
Mrs. Obama's memoir chronicles her life growing up on Chicago's South Side, meeting her husband, former President Barack Obama and through her years inside the White House as a mother of two and the nation's first African-American first lady.
"She just opens up herself; it's so vulnerable," Ms. Winfrey stated on her website. "It is Michelle Obama's personal story, of course, but I believe it's going to spark within you the desire to think about your own becoming."
Pre-release reports and interviews with Mrs. Obama offered some titillating tidbits from the book, among them:
Mrs. Obama said she would never forgive President Trump for promoting a bigoted conspiracy theory that questioned whether her husband was born in the United States.
The so-called birther movement, which falsely claimed President Obama began life as a foreigner, was "crazy and mean-spirited" and could have put her family in danger, she wrote.
"What if someone with an unstable mind loaded a gun and drove to Washington? What if that person went looking for our girls?" Mrs. Obama wrote. "Donald Trump, with his loud and reckless innuendos, was putting my family's safety at risk. And for this I'd never forgive him."
Asked last Friday about her comments, President Trump did not answer directly and instead took a swipe at the former first couple.
"I haven't seen it. I guess she wrote a book. She got paid a lot of money to write a book, and they always insist that you come up with controversial (material)," he told reporters at the White House as he left for a trip to Paris.
"Well, I'll give you a little controversy back: I'll never forgive him for what he did to our United States military by not funding it properly. It was depleted. Everything was old and tired. And I came in, and I had to fix it," President Trump said.
Since the U.S Constitution requires that a president be a natural-born citizen, the birther conspiracy was aimed at challenging the legality of President Obama's presidency.
Ahead of the 2016 election, President Trump abandoned those claims about President Obama, but he did not apologize.
In a separate interview with ABC News ahead of the book's release, Mrs. Obama also revealed she suffered a miscarriage 20 years ago, and that she underwent in-vitro fertilization to conceive her two daughters.
She said she felt "lost and alone" after suffering a miscarriage.
"I felt like I failed because I didn't know how common miscarriages were because we don't talk about them," she said. "We sit in our own pain, thinking that somehow we're broken."
She also revealed how she underwent IVF in order to give birth to Malia, now 20, and Sasha, now 17.
The memoir fulfills half of an agreement that publisher Penguin Random House reached with her and the former president after he left office under which the couple will each publish one book, reportedly for a sum worth more than $60 million.