Holiday events underway in city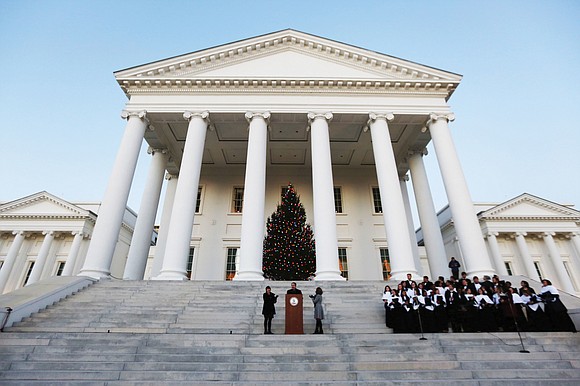 Grand Illumination
What: Turning on the holiday lights at the James Center and the lights outlining Downtown buildings.
When: Friday, Nov. 30.
Time: 6 to 7 p.m. (Display lights go on at 6 p.m.)
Where: 10th and Cary streets.
Features: Family entertainment, including Santa and Good Shot Judy Band.
Crowd: 8,000 to 10,000 people.
Cost: Free.
Related events: Holiday open house featuring music and story reading and train rides for children, Main Street Station, 5 to 9 p.m.; "Illumination Celebration," 7 to 9 p.m., Kanawha Park, 7th and Canal streets.
Christmas Parade
When: Saturday, Dec. 1.
Time: 10 a.m. to about 12:15 p.m.
Where: Broad Street from DMV at 2300 W. Broad St. eastbound to 7th Street and the Richmond Coliseum.
Features: Cartoon-character balloons; high school and college marching bands; community floats; clowns; horseback riders and more.
Crowd: More than 100,000 people expected.
Cost: Free.
Richmond will turn on the holiday lights and welcome Santa to Downtown this weekend to officially launch the celebration of the season in the Capital City.
First up will be the 34th Annual Grand Illumination on Friday, Nov. 30.
The event will light up the Richmond skyline with "Love Lights" and create a dazzling holiday display at the James Center, 10th and Cary streets in Downtown.
Separately on Friday, holiday revelers will find a traditional, music-filled family Open House at Main Street Station from 5 to 9 p.m., an ice skating rink set up in the 17th Street Farmers' Market that has been renovated and officially will reopen at 4:30 p.m. and an "Illumination Celebration" at the city's Kanawha Plaza from 7 to 9 p.m.

Those events will be followed by Saturday's 35th Annual Christmas Parade to escort the jolly old elf along Broad Street into Downtown
"Snoopy," the beagle character from the Peanuts cartoon, will serve as grand marshal for the 2018 parade, according to the parade's sponsor, the Dominion Energy Charitable Foundation.
The cartoon character will lead the lineup of bands, giant floats, equestrians and other participants who will walk and ride the 2-mile-plus route from the Virginia Department of Motor Vehicles in the 2300 block of West Broad Street east to 7th Street in Downtown, where the parade will turn north and end at the Richmond Coliseum.
If the weather is good, 70,000 to 100,000 people are expected to line the medians and sidewalks on the north side of Broad Street for the parade that also will air on a Richmond TV station.
The forecast: Rain Friday and Saturday.
Family entertainment is key to the holiday events. Santa, Jack Frost and the Snow Queen will greet people at the Grand Illumination, while the 14-member Good Shot Judy band from Williamsburg will play.
Meanwhile, Main Street Station will be alive with family entertainment, a community art gallery, storytellers and live music.

Performers will include the Metro Richmond Police Emerald Society Pipes & Drums, James "Saxsmo" Gates Jr., Tuba Christmas and a Host of Sparrows, according to city information. The event also will feature aerialists, model trains and free carriage rides.
On Saturday, Dec. 1, Mayor Levar M. Stoney also will host an open house from 2 to 4 p.m. at Main Street Station to highlight the annual Winter Market.
Upcoming events also include the 31st Annual Court End Christmas from noon to 5 p.m. Sunday, Dec. 9. Seven historic sites will open their doors, with a free shuttle to allow visitors to travel to the locations, including The Valentine museum and its separate First Freedom Center, the John Marshall House, St. John's Church, the State Capitol, Monumental Church and the American Civil War Museum and the White House of the Confederacy.