Birmingham memorial service remembers 4 little girls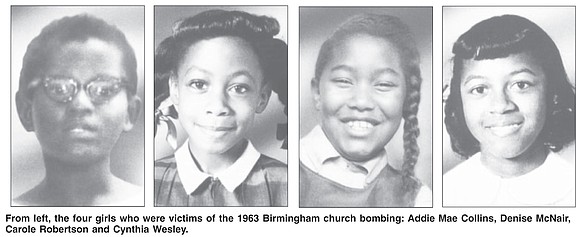 BIRMINGHAM, Ala.
The four girls killed when a bomb placed by Ku Klux Klan members ripped through a Birmingham church in 1963 were remembered in a memorial service last Saturday on the 55th anniversary of the deadly attack.
Addie Mae Collins, Denise McNair, Cynthia Wesley, and Carole Robertson were killed in the Sept. 15, 1963, bombing of Birmingham's Sixteenth Street Baptist Church. The four girls, between the ages of 11 and 14, were getting ready for Sunday services when dynamite that had been placed under the church stairs detonated.
The service also honored two young boys killed in separate incidents, Johnny Robinson Jr. and Virgil Ware, shortly after the bombing.
Local news outlets reported that speakers at the service urged remembrance and reconciliation and to guard against the hateful beliefs and rhetoric that led to the bombing.
"Birmingham is bigger than the angst and the pain of our past," Mayor Randall Woodfin said during the service. "Our true legacy is hope. Our true legacy is reconciliation, unity, and probably most important, justice."
The viciousness of the bombing shocked a nation and brought national attention to Birmingham, where police dogs and fire hoses had been used to turn back civil rights marchers.
U.S. Sen. Doug Jones, who prosecuted two of the four men responsible for the 1963 bombing, gave the keynote address during the service.
"They remind us of what Dr. King said that we must substitute courage for caution and that we must be concerned with not merely about who murdered them but the system, the way of life, the philosophy which produced their murders," Sen. Jones said.
He urged attendees to speak out against hateful rhetoric when it occurs, saying that it was the hateful rhetoric of segregationist politicians in the 1960s that emboldened attacks on African-Americans.
There was a fifth little girl in the room that day. Sarah Collins Rudolph survived but lost her sister, Addie Mae Collins, in the bombing. Ms. Rudolph lost an eye in the blast.
"I feel that, when we love, we're doing what God wants us to do, and when we hate, we're doing what the devil wants us to do," she said. "We should take off the hate and just continue to love each other."