Final stanza
Larry Bland, director of The Volunteer Choir, is calling it quits as group reaches 50th anniversary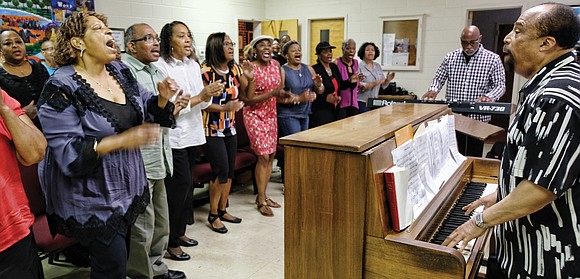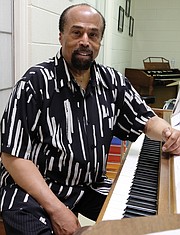 A local gospel music group that has been generating sounds of joy and inspiration for 50 years could soon be no more.
Larry Bland & The Volunteer Choir is scheduled to make three appearances this year to mark its golden anniversary milestone, and then Mr. Bland said he will retire as the group's director and chief organizer.
"It's bittersweet," said the 65-year-old Mr. Bland, who both sings and plays keyboard with the group he helped nurture into one of the best known gospel performance groups in the Richmond area.
The choir currently has about 25 active singers, including eight women who were among the founding members in 1968.
Whether the choir will soldier on without their energetic and enthusiastic director remains a major question.
Two of the three remaining Volunteer Choir appearances will be during fifth Sunday worship services at St. Peter Baptist Church, 2040 Mountain Road in Henrico County.
That includes the 11 a.m. worship service this Sunday, Sept. 30, and Sunday, Dec. 30, that Mr. Bland said will be his last as director.
St. Peter has hosted the choir on fifth Sundays for eight years, Mr. Bland said.
The choir's grand finale also includes a performance Sunday, Oct. 14, at the Richmond Folk Festival on the Downtown riverfront. All former members of the choir may return to perform one last time during this show.
Known for its choreographed performances and upbeat tempo, the Volunteer Choir began at Second Baptist Church in the Randolph neighborhood of the city's Near West End.
At the time, there was controversy over the type of music that was right for worship services. In 1968, gospel music had not yet become dominant in the black church, and music leaders at Second Baptist Church resisted rollicking gospel in favor of traditional hymns and spirituals. Several of the church's choir members quit to protest the push for inclusion of gospel.

The late Dr. Odie D. Brown, who was the church's pastor, issued a call for volunteers to fill in while Second Baptist's music ministry was reorganized. That name — The Volunteer Choir — stuck among those who responded.
Among the initial volunteers are the eight who have remained active with the choir for 50 years — Corliss Terry Bey, Vickie Lightfoot Epps, Calcine Harris, Valerie Harris-Jones, Valerie General Johnson, Deborah Ann Lundy, Yvette Lundy-Johnson and Marsha Dailey Vandervall.
Mr. Bland, who was a teenager at the time, did not become part of The Volunteer Choir until 1971 when Dr. Brown handed him the director's baton just before Mr. Bland began his freshman year at Virginia State University.
Despite his youth, Mr. Bland was already a seasoned gospel performer. Since 15, he had played keyboards and directed the choir two Sundays a month at Abner Baptist Church in Glen Allen. He also led Larry Bland and the Gospel 6, a touring Richmond gospel group he and friends had created.
And before The Volunteer Choir, Mr. Bland led the short-lived Odie Brown Gospel Youth Chorale, the pastor's first attempt to bring gospel into the church.

Mr. Bland also founded the Virginia State University Gospel Chorale as a student.
He made The Volunteer Choir a fixture on fourth Sundays at Second Baptist Church.
On a mission to spread goodwill, Mr. Bland said with The Volunteer Choir, he was able to fully use his abilities to arrange and lead. The choir began garnering invitations as its performances drew appreciative recognition.

"We were unique," said Mr. Bland, a showman who is happiest when he is performing. As the group's reputation for showmanship and vocal prowess grew, "we were catapulted into some wonderful situations."
That includes appearances with the Richmond Symphony, summer shows at Dogwood Dell, performing at the State Capitol for Queen Elizabeth of England during her 2007 Virginia visit to commemorate the 400th anniversary of Jamestown and participating in the inaugurations of Gov. Charles S. Robb in 1982 and Gov. Ralph S. Northam in January.
Early on, Mr. Bland helped swell the ranks of the choir by inviting members from Abner Baptist's choir to join the volunteer group. In the late 1970s, the group's numbers peaked around 125 after members of a choir Mr. Bland directed at First Union Baptist Church in Mechanicsville also joined.
After graduating from VSU, Mr. Bland worked in dinner theater in the Richmond area and at the Richmond Urban League, but began looking for something that would pay better. For several years, he also directed June Jubilee, a community festival in which the choir participated.
Around 1984, he left Richmond to become an executive assistant for an attorney in Northern Virginia and, for the first time, gave up directing The Volunteer Choir.

Within two years, he picked up the directorship again and regularly commuted to lead the choir while continuing to work in the Washington, D.C., area, including a five-year stint with the Discovery Channel's international division.
He moved back to Richmond about six years ago, and since 2014 has worked in the adult division of the Richmond Department of Justice Services.
While the choir has always fit with what he regards as his life's mission — "spreading goodwill" — he said it has been a challenge to pay for its activities.
Despite the plaudits, the choir rarely had regular sponsorships through the years and has had to be self-supporting. Members always have had to pay for their own attire, music and the cost of travel.
Still, choir members have found a way to enable the choir to survive and thrive. In the early 1990s, the choir had to find other places to perform after parting company with Second Baptist Church following the arrival of a new pastor, Dr. James Henry Harris. The choir has been able to rehearse at the church but has not sung at services since then.
Appearances have become more sparse. The choir became a regular at fifth Sunday services at other churches, such as Cedar Street Baptist Church of God in Church Hill, Grayland Baptist Church in North Side and, in recent years, at St. Peter Baptist.
"For me, the time has come," Mr. Bland said. "We've had a great run."