The end of Easter on Parade?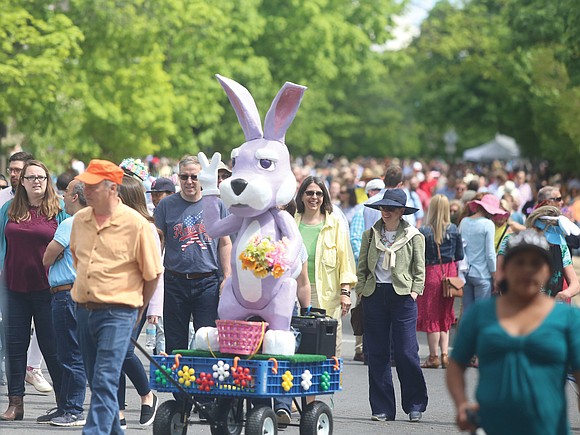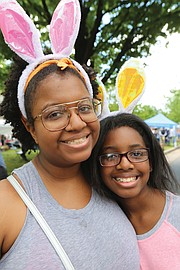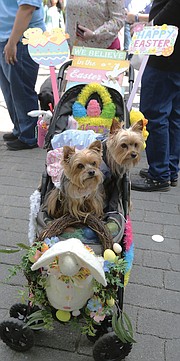 Sunday might have been the final edition of Easter on Parade — at least as an organized event.
Thousands of people turned out to stroll along four blocks of Monument Avenue on Easter afternoon, some in holiday finery and others with costumed pets. It's a tradition that dates back at least 50 years and has been under the aegis of city-supported groups for at least 30 years.
Musicians playing on porches, a juggler, stilt walker and other street performers, arts and crafts stations and vendors added to the lively, friendly holiday atmosphere that attracted a diverse crowd during the four-hour event. Barricades blocked off traffic, creating a temporary pedestrian mall.
But the longtime wellspring of funding for this Richmond tradition has gone dry.
Venture Richmond, the Downtown booster group that has long backed the event, notified the city two years ago that it would end its support, with 2019 being the last year it would contribute.
The group laid the groundwork for pulling out by turning over the operation of Easter on Parade to a private group, Echelon Event Management, which produced the event this year and in 2018. Venture Richmond came up with $20,000 each year.
Earlier this week, 2nd District City Councilwoman Kim B. Gray noted during a council budget session that no funding for Easter on Parade was included in Mayor Levar M. Stoney's budget proposal for the 2019-20 fiscal year that will start July 1.
Ms. Gray, who missed the April 18 deadline to submit a budget amendment to add funding, expressed frustration Monday afternoon when Council President Cynthia I. Newbille declined to allow her to submit a late amendment.
Ms. Gray scolded her colleagues for accepting a ruling that she said could mean the end of Easter on Parade, which she described as a major attraction for the city that should not be abandoned. But she found no backing for changing the procedure adopted by the council.
Ms. Newbille told Ms. Gray that the issue might be revisited after the council deals with previously submitted amendments and the overall budget.
Officials from Venture Richmond said the group provided members of City Council and the city administration with at least 15 months' notice so the group's decision would not leave anyone in the government unaware.

"This is the only event we have sponsored that is outside our boundaries," said Lisa Sims, executive director of Venture Richmond, now best known for managing the riverfront canals and Brown's Island, operating canal boat rides, promoting real estate development and visitation to Downtown and hosting the Friday Cheers concert series, the annual 2nd Street Festival and the Richmond Folk Festival.
Ms. Sims said Venture Richmond's board decided in 2017 that it needed to be more laser-focused on its work within Downtown, which is loosely bounded by Belvidere Street, 18th Street, the James River and Interstate 95.
Ms. Sims said Venture Richmond used leftover funds to support Easter on Parade in 2018 and then dug deep to provide the subsidy to hold the event this year.
Lucy Meade, Venture Richmond's director of economic development and community relations, said despite attracting large numbers of people, the free event "is not a moneymaker. It was never designed to be."
Venture Richmond, created from past mergers with several groups that hosted city-promoting events and Downtown growth, inherited Easter on Parade from CityCelebrations.
Easter on Parade began as a neighborhood event in which people took a walk along the street. It later morphed into a bigger public event in the 1980s after CityCelebrations adopted it with support from residents.
Ms. Sims said the event could continue if a private sponsor or several religious denominations emerge to fund it. For example, Lidl, a new grocery chain that has opened in Richmond, was a sponsor of this year's event, but the company has not said whether it would take on the full cost to host tge event.