Peterson rushing to get Washington NFL team into playoffs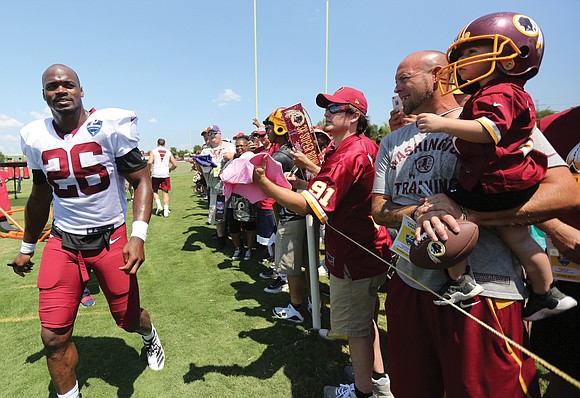 How far Washington goes in the NFL East may rely on how much fuel Adrian Peterson has left in his tank. Recent statistics indicate he's nowhere near empty.
Last year at age 33, practically a relic by NFL running back standards, Peterson rushed for 1,042 yards and eight touchdowns for the burgundy and gold.
He's promising much, much more at age 34.
"I'm aiming for 2,000 yards," Peterson said following a preseason workout at the team's summer training camp at Richmond's Bon Secours Training Center.
"I've always set that as my mark since coming into the league. So that's it."
Some may suggest Peterson is setting his sites on another galaxy.
Ball carriers elite
Here are the NFL's all-time leaders for rushing yardage:
Emmett Smith 18.355
Walter Payton 16,726
Barry Sanders 15,269
Frank Gore 14,748
Curtis Martin 14,101
LaDanian Tomlinson 13,684
Jerome Bettis 13,662
Adrian Peterson 13,318
Here are the NFL's all-time leaders in rushing touchdowns:
Emmett Smith 164
Marcus Allen 145
Walter Payton 110
Jim Brown 106
Adrian Peterson 106
Age and wear and tear is an unavoidable fact of life for NFL ball carriers. The all-time rushing record for a 34-year-old is 1,340 yards set in 1983 by John Riggins, another Washington back.
Peterson, now in his 13th season out of the University of Oklahoma, rushed for 2,097 with the Minnesota Vikings in 2012, averaging 6.0 yards per carry.
His per-carry average a year ago was 4.2 yards. His career average gain is 4.7 yards.
Peterson signed with Washington in August 2018. It was a one-year contract. Team officials were so satisfied with his performance that, in March 2019, he was presented a two-year deal worth $8 million.
Peterson is not alone in Washington's backfield. Other hopefuls are Derrius Guise, Bryce Love, Chris Thompson and Samaje Perine.
Guise missed his rookie season a year ago after suffering a knee injury in the opening exhibition game.
Love, a rookie out of Stanford University, also is coming off knee surgery.
Thompson, too, has been sidelined by injury. Known as a "third-down back" for his ability to catch passes, Thompson suffered a broken fibula in 2017.
Perine, who is now in his third season, showed promise in 2017 but had only eight carries in 2018.
Guice, Love and Thompson offer potential, but are no sure things.
Meanwhile Peterson, the "old man river" of ball carriers, just keeps rolling along. If he can muster two-thirds of his predicted yardage, the Washington team might slip back into the playoffs.