Mo Alie-Cox takes blocking from the basketball court to the football field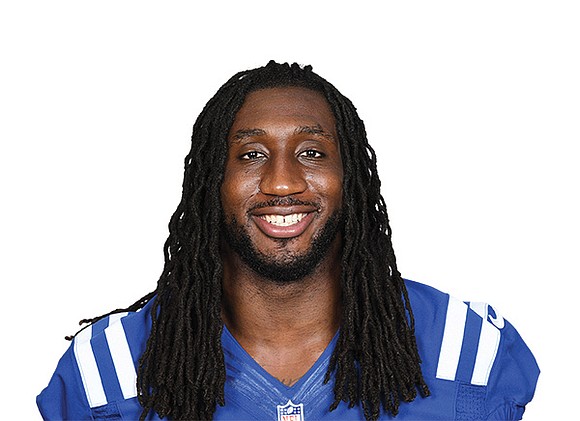 The NFL's premier ball carrier has a former Virginia Commonwealth University Ram helping to clear his runways to first downs and touchdowns.
Jonathan Taylor of the Indianapolis Colts has literally kicked up his heels and raced away with the league's rushing title—often with a face familiar to Richmonders out in front. Taylor finished with 1,811 yards, averaging an impressive 5.5 yards per carry. He was about 400 yards ahead of any other rusher.
But it's unlikely Taylor's statistics would be as great without tight end Mo Alie-Cox—the former VCU basketball center— spilling would-be tacklers like bowling pins.
Taylor (No. 28 with the horseshoe on the helmet) might award Alie-Cox (No. 81 with the double stripes on his shoulders) a slice of the recognition.
As a ritual following each game, Taylor deflects attention from his yardage and touchdowns to the offensive line that provides so much pushing and shoving.
In turn, Alie-Cox says this about Taylor:
"You see him get to the first level (past the line of scrimmage) and you know he has a chance to score every time," Alie-Cox told the Colts' in-house publication, Horseshoe Huddle. "I just turn my head and see him flying through the air like a superhero."
Some might suggest Alie-Cox has "super" powers of his own. His story is among the most unique in NFL annals, and it only keeps getting better.
There is a relatively short list of athletes who reached the NFL with little or no college football experience. But it could be that Alie-Cox is the one and only to be cashing an NFL check (since 2017) with no college or high school varsity football training.
Before entering the NFL, Alie-Cox's last football game was as a freshman junior varsity player at Lorton High School in Northern Virginia. He then transferred to Middleburg Academy, which has no football team.
Likewise, VCU has no football team.
Alie-Cox, who was a three-season basketball starter with the VCU Rams, signed with the Indianapolis Colts soon after a much scrutinized one-man, indoor workout at SCOR Sports Center in Richmond near The Diamond. He dazzled with these measurables:
• Size: 6-foot-51⁄2, 262 pounds.
• Speed: 4.75 seconds for 40-yard dash.
• Vertical leap: 351⁄2 inches.
• Standing broad jump: 10-2.
• Hand size: 113⁄4 inches pinkie tip to thumb tip.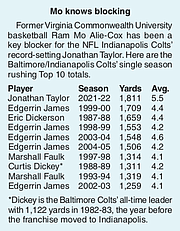 While the NFL has paid attention to No. 28 for the Colts, No. 81 hasn't gone unnoticed. Alie-Cox has been rated Indianapolis' "Most Underrated Player" by Pro Football Focus. He has been given a nearly flawless record at pass blocking and an impressive score of 80 in run blocking on a scale from 1 to 100. When not blocking, Alie-Cox has caught 24 passes for 316 yards and four touchdowns.
At VCU, Alie-Cox scored 1,092 points, grabbed 663 rebounds and blocked 255 shots, second on the Rams' career list.
The blocking part continues, only now he's blocking bodies instead of jump shots.