From basketball to football, Mo Alie-Cox on rocket trajectory with Colts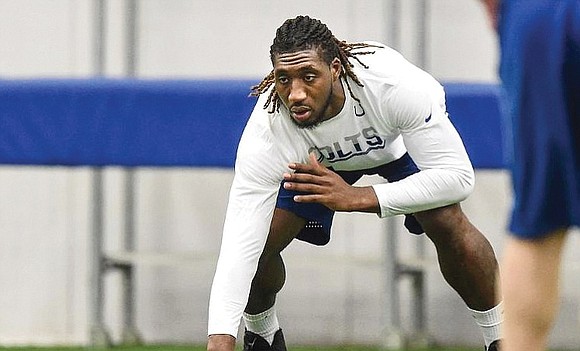 Of all the NFL's human interest stories, few are more intriguing than that of Mo Alie-Cox.
He never played college football. Furthermore, he never put on the pads in high school past ninth grade.
Yet the athlete Richmonders recall as the imposing Virginia Commonwealth University basketball center started the season as the No. 1 tight end on the Indianapolis Colts' depth chart.
Already an established blocker, the 26-year-old with the signature dreadlocks is hopeful of a breakout, snagging passes from new quarterback Philip Rivers.
The vast majority of his previous 600 NFL snaps have been as a blocker first and as an infrequent receiver. There's optimism that may change.
"I don't mind doing the dirty work, but the next step for me is to become another weapon in the passing game," Alie-Cox told the Colts' publication Stampede Blue.
Alie-Cox had two receptions for 20 yards in the Colts' opening 27-20 loss at Jacksonville last Sunday.
He wasn't targeted in many passes last year for a couple of reasons. The Colts had an All-Pro tight end in Jack Doyle. Plus, Alie-Cox was playing with one hand.
"I had a broken thumb that held me back," he said. "Now that it's healed, I'm hoping to make more of an impact five, 10, 15 yards downfield."
Jason Michael, the Colts' tight ends coach, said this to Stampede Blue:
"The sky is his limit; I put no limitations on Mo. He's a big, physical body in our blocking scheme. But when he gets the ball in his hands, he's hard to bring down."
For his Colts' career, Alie-Cox has 15 catches for 226 yards and two touchdowns. Of that 226 yards, 108 came after the catch.
Rivers will become the Colts' – and Alie-Cox's—third quarterback in three seasons, succeeding Andrew Luck in 2018 and Jacoby Brissett a year ago.
Some background:
Alie-Cox was the VCU Rams' dominant big man from 2013 to 2017, recording 1,092 points, 663 rebounds and 255 blocked shots in 142 basketball games.
Known as "Mo-nan the Barbarian," he also established VCU's record for career field-goal accuracy, 57.4 percent.
Undrafted by the NBA, Alie-Cox passed on opportunities to shoot hoops overseas to take a shot at a sport he hadn't played since he was a freshman at South County High School in Lorton in Northern Virginia.
Alie-Cox was signed by the Colts following a one-man tryout session in August 2017 at SCOR Sports Center of Richmond near The Diamond. Representatives of 30 of the NFL's 32 teams attended the workout.
This marks Alie-Cox's fourth season with the Colts, although he has not always been active.
While Alie-Cox didn't have football experience entering the NFL, he possessed the physical dimensions—and then some—scouts hunt for. The native of Alexandria is listed at 6-foot-5, 267 pounds. That doesn't tell the whole story, however. His wingspan has been measured at 7-foot-1 and his massive hands stretch 11 3⁄4 inches from the tip of his thumb to the tip of his pinky.
In the history of the NFL combine, where such physical traits are measured, only DeForest Buckner in 2016 and Gosder Cherilus in 2008 had hands so immense.
The spark that lit Alie-Cox's NFL aspirations may stem from a trip made by Dallas Cowboys tight end Jason Witten to VCU in 2017. Witten was visiting friend Mike Morrell, a VCU assistant coach.
Witten was so impressed with Alie-Cox's physical presence that he suggested the Ram give the gridiron a shot.
Alie-Cox's starting status may be short-lived at Lucas Oil Stadium in Indianapolis. Doyle is expected back soon following a neck injury. Another tight end, Trey Burton, is recovering from a leg injury.
Still, the Colts use multiple tight ends more than 33 percent of the plays, more than any other team. So there's room for additions.
Despite playing little football growing up in Northern Virginia, Alie-Cox did have a favorite player — NFL Hall of Fame receiver Randy Moss, who wore No. 81 for the New England Patriots from 2007 to 2010.
In admiration of Moss, Alie-Cox chose to wear No. 81 for the Colts.
Alie-Cox is no Moss. Yet, if there was a hall of fame for great storylines, the Colts' No. 81 would be a leading vote getter.