Some Richmonders on edge following national tragedies
Ronald E. Carrington and George Copeland | 8/9/2019, 6 a.m. | Updated on 8/9/2019, 6 a.m.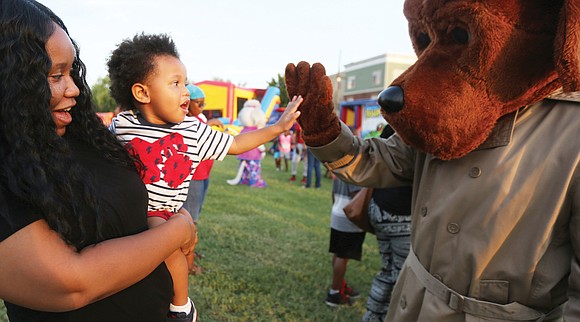 Like many Americans, people around the Richmond area are dazed and distracted, saddened and angered after two mass shootings last weekend in Texas and Ohio left 31 dead and dozens of other wounded.
Some Richmonders, including members of the Latino community, also questioned their safety and security at large, public events in the metro area, including the annual National Night Out events held Tuesday night by law enforcement agencies across the country to foster safety and build relationships with the diverse populations in cities and counties nationwide.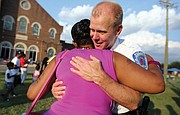 Many people wondered if Richmond area residents are vulnerable to such horrific mass attacks as they attend summer sporting and outdoor cultural events.
A Richmond Police spokesman sought to assure residents this week, saying the law enforcement community is gearing up for all events, not only this week but at any time.
"The RPD is staffed, trained and equipped to handle events involving large crowds and large incidents involving crime," James Mercante, Richmond Police public information officer, stated in an email response to a Free Press query.
"The department suggests that in any large setting, participants should stay observant for any suspicious persons or behavior. Call 911 if suspicious activity or persons or vehicles are present. Keep an eye out in your neighborhood," he said.
Similarly, officials presenting the multi-day Richmond Jazz and Music Festival at Maymont this weekend, said the thousands of people expected will be safe in the spacious open park in the city's West End as they enjoy an array of musical talent.
"The safety and security of our patrons, volunteers, crews, artists and staff has been and will always be the No. 1 priority," Frances C. Burruss, senior account manager for festival sponsor JMI, stated in an email.
"Each year we work with the Richmond Police Department and our security teams to evaluate security needs and implement all measures necessary to ensure the safety of everyone at the festival, as well as outside festival gates."
Hundreds of people turned out Tuesday night for the National Night Out event sponsored by the Bellevue Merchants Association along two blocks of MacArthur Avenue in North Side. People, some who brought their pets, enjoyed free food and games and picked up information from local police and products from local vendors.
Corina Martinez and Mat Powell, who have lived in Bellevue for at least seven years, said they felt lucky to reside in a community where people and businesses support their neighbors.
"I feel pretty safe because, in Bellevue, everyone knows each other and we are friends. It's pretty safe here," Mr. Powell said.
"I think the Richmond Police will keep us safe," Ms. Martinez said.
Germarys Torrealba, a native of Venezula who now lives in Chester, works to register voters through the nonprofit organization, New Virginia Majority. She said many Latinos she has interacted with since the mass shootings are "scared every single time someone tries to talk to them."
"I have noticed that every single time that we try to get closer to them, to talk to them or to give them some information about what we do, they always feel like they don't want to know about anything," Ms. Torrealba said.
This hesitation extends beyond elections, according to Ms. Torrealba, potentially affecting their choice to participate in public events like the National Night Out out of worry of recent history repeating itself.
Midlothian resident Doris Valencia, whose Doritas Company sells empanadas crafted from recipes from her native Colombia, expressed in Spanish her sadness "for the families that are victims of this violence."
She moved to the United States with her husband six years ago and to Virginia four years later. She, too, expressed hesitation about attending public events, citing the difficulty in spotting potential dangers contributing to an atmosphere where "you don't feel safe being a part of them."
Ms. Torrealba said some Latino parents have concerns about their children possibly facing harassment or attack as school opens and during outings with their friends.
A possible solution, she said, is to continue to push for greater unity and empathy within the larger Richmond community to lend comfort to those who are anxious and afraid and to ensure marginalized groups they aren't alone in dealing with the uneasiness.
"No matter where you're from, no matter what you do," Ms. Torrealba said, "the important thing is to be together and fight against this fear."