'We need this to get back to normal'
George Copeland Jr. | 1/21/2021, 6 p.m.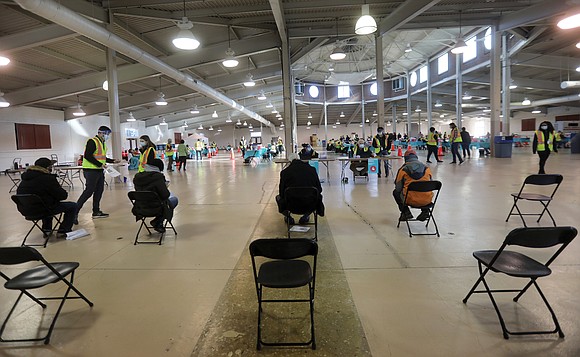 It has been months since Annette Johnson has seen her grandmother in person.
A program nurse with Community Residence Inc. that helps people with developmental disabilities and mental health needs in Richmond, she has spent the time caring for patients with compromised immune systems and doing what she can to stay safe in the midst of the pandemic even as it has left her distanced from family members out of necessity.
But the time apart has taken its toll. So when her employer notified her of her eligibility for vaccination—an opportunity she saw to keep her patients safe and to see her grandmother in person again—she didn't hesitate to take it.
"In order for me to see my family again, I need to make sure they're safe," Ms. Johnson said. "We need this in order for us to get back to normal.
"I know our people have a history of the government set- ting us up for guinea pigs," Ms. Johnson continued, alluding to medical experiments conducted unethically throughout history on African-Americans. "But I don't feel bad about this at all," she said. "It's easy to get set up, it's easy to go in there and it's no harm."
Ms. Johnson was one of hundreds of people who lined up Tuesday to get their first COVID-19 vaccine shot at a mass vaccination event held inside the Old Dominion Building at Richmond Raceway in Henrico County.
Volunteers and employees with the Richmond and Henrico health districts wearing masks and minding social distance and health safety protocols worked to inoculate teachers, essential workers, the elderly and others in the area's first expansion of the vaccination effort and who is now eligible to receive the vaccine under the state's plan.
When the day's work eventually ended at 4 p.m. Tuesday, a total of 1,005 people had been vaccinated. That's a little over the 800- to 1,000-person goal that had been set and a far cry from the 300 to 400 totals that had been tallied during the vaccine's initial rollout targeting front line health care workers and those living and working in long-term care facilities.
Two additional large-scale vaccination events were slated for this week, health officials said.
"It was fantastic," said Sheila Franco, a 58-year old Richmond teacher, who was eager to roll up her sleeve and get the first of two shots to ensure the safety of her family and her students. "That was the most organized thing I've ever been to. I hope we have enough in supply, and I hope that people come out and get it if they're offered the opportunity."
Catherine Long, public information officer for the Richmond and Henrico health districts, said Tuesday's event ran smoothly.
"We are excited to continue to vaccinate our communities," she said.